Winter Trees and Shrubs Download
mediafire.com ?datc0fqy7we87wt
I've had a few requests for these, so I'll give a brief explanation on how to use these files.
You will need S3pe which is a free download, to add these files to your world. Get it here;
Simlogical and the Dead End Nights
Okay, now you've downloaded s3pe, and the winter trees and shrubs.7zip, and unzipped them. Put them where you can find them.
Open up S3pe, click on "File" on the bar at the top, click on "Open", and find your .world file you wish to add these files to.
They should be in;
Documents,
Electronic Arts,
Sims 3 Create a World
UserToolData
Worlds
It should look like this, I'm opening up my WhovilleBeta;
Make sure you click the "All Files" option, or your .world file won't show up.
Once you open it up, this is what it will look like;
Now, just click on the "Resource" tab on the top bar, Click on "import", and "from file". Find your Winter trees folder, and click on it;
Now just hit the Ctrl + A keys to select all of the files in the folder, and click "Open". This is what you'll get. Just click "import", and then click on "file" on the top bar again, and "Save".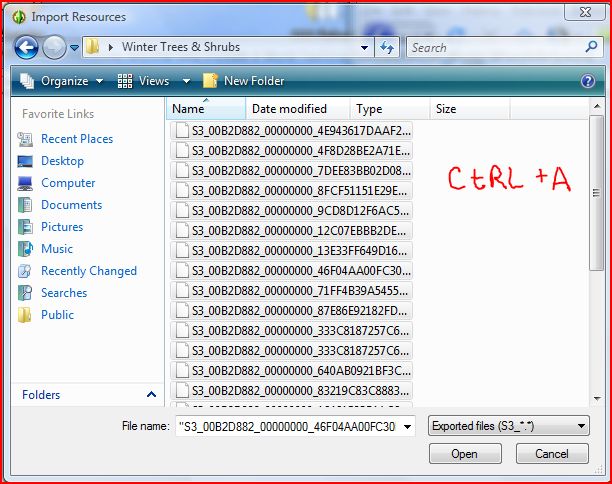 Now, go open up Caw, and your world, and check out your new trees!
This actually changes the image for that tree or shrub, so you won't be able to change them back without extracting the same files and doing this process again to replace the white trees.