Preview made possible by EAGamechanger EA/Maxis
The big push for this Stuff Pack (SP) features the Italian based Moschino luxury fashion company.
There is an assortment of pieces that will work for some Sims but might not be suitable (storytelling) for homeless Sims.
Plumbob earrings are quirky and fun and have several color swatches.
Shoes are limited to one pair of heels and one pair of boots but I can live with that.
The four hairstyles are what I would consider unisex with a couple being similar to some already in the game.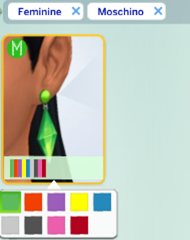 About Moschino: