Inspired by
The Martian by Andy Weir
Adjusted for Seasons Expansion
Get to Work (GTW) and Outdoor Retreat (OR) recommended but not necessary.
Base Game/Granite Falls/Get to Work Original Challenge Post
Mark Watney, an astronaut and botanist, has been stranded on a desolate planet by a freak sandstorm. He has only what he has salvaged from his destroyed space station. Can he survive on his wits and be rescued by his team?

Getting Started:
*Start a new save.
*Create or download your skill free "Mark Watney".
(You must complete the Freelance Botanist Aspiration but you do not have to pick this aspiration for his CAS choice. Choose according to what aspiration trait you'd like him to have at the beginning of the save. You will be able to switch between aspirations while playing the save.)
*If you've created a sim be sure to upload with
#TheMartian
*Move him to Pebble Burrow, Oasis Springs. This should leave you with 18,500 Simoleons.
*Choose Fall for Mark's beginning season.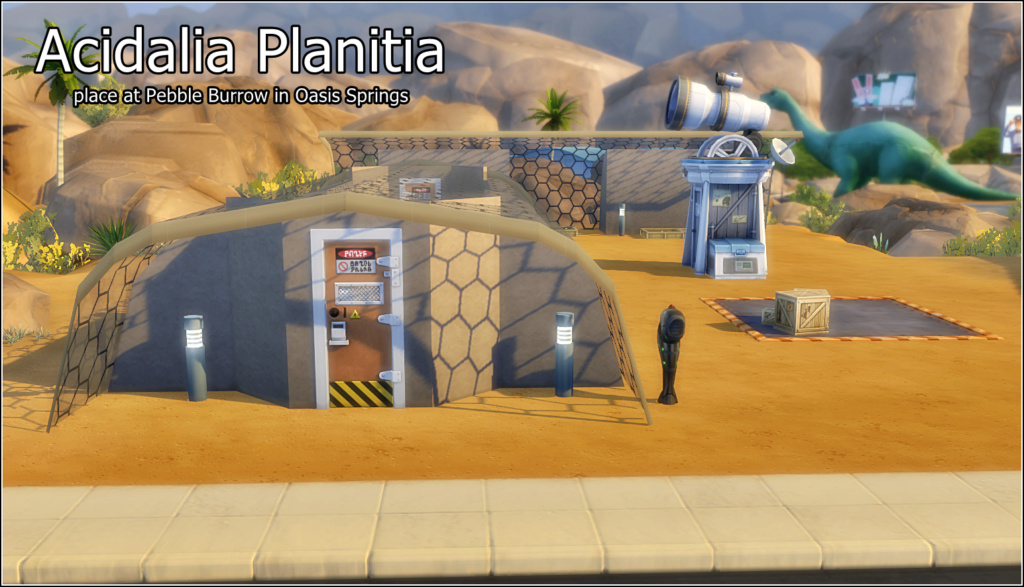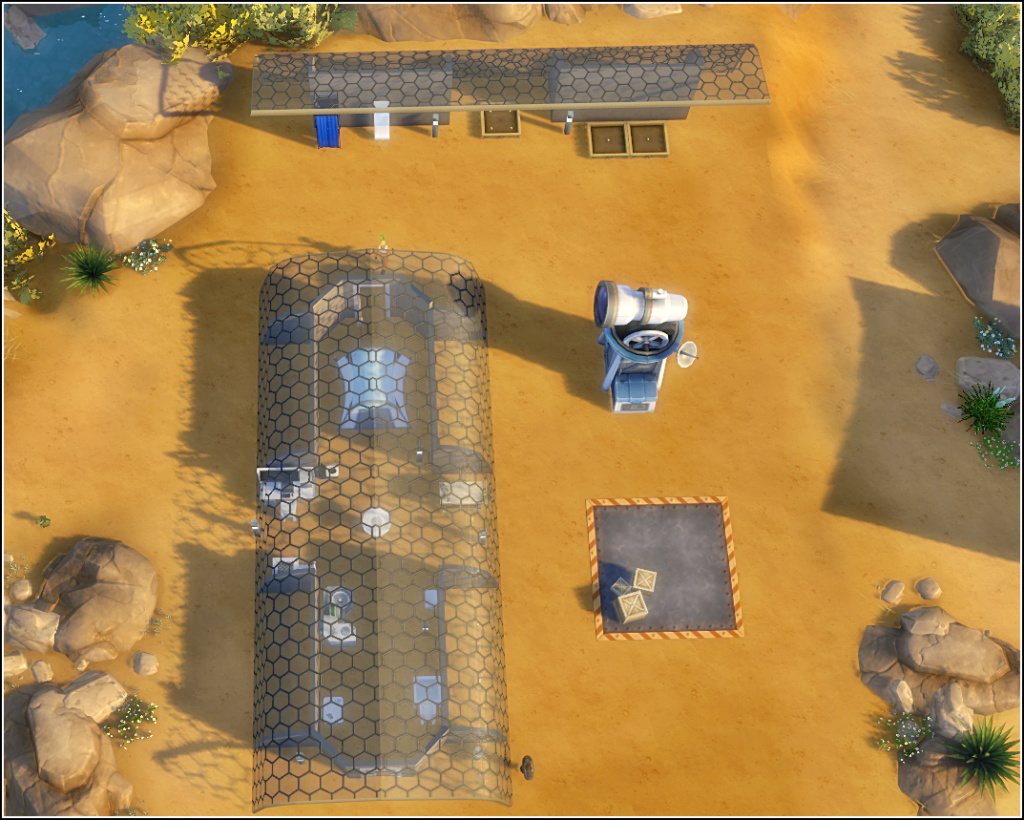 Download  Acidalia Planitia (original lot has been removed) #TheMartian #BGsCreations #TS4Seasons
If anyone has already started there is a room named Two Growfruits  #TheMartian #BGsCreations in my gallery with growfruit your sim can plant on your existing lot if you wish. Evolve your growfruit so it's is better fertilizer for your potatoes.
*Play with walls down for easy access to objects.
Household Funds:
*Keep household funds (3,598) after placing lot
OR
*For more of a challenge have Mark start building his rocket (1000 simoleons) and then cheat the household funds to zero. Use cheats: testingcheats on/ money 0000
Game Options:
*Autonomy: Full
*Auto-age played sims:No
*Auto-age unplayed sims: Your choice
Seasons Settings:
*Season Length: 14 days
*Rain Options: Your choice
*Snow Options: Your choice
*Do not enable temperature effects on sims.
Goals:
Mark Watney must accomplish the below listed criteria before his team can retrieve him from the planet's surface:
*Become a Level 10 astronaut
*Max (Level 10) skill in: Handiness, Rocket Science and Gardening
*Complete the Freelance Botanist Aspiration
Rules:
Gardening:
*This build includes the potatoes and Growfruit you need for the challenge. The produce needs to be sheltered to be able to grow in all seasons, so keep them under cover of the build roof.
*Tip: You don't need to plant a bunch of produce plants in fact the fewer the better, less work for Mark.  You can keep some to eat, sell the rest or use them as fertilizer.
* Growfruit may be grown on your lot and used as a fertilizer only. No Munching!
* UFO/Simax plants may be grown on your lot and used as fertilizer. Mark can not eat this produce.
*There are no Bees Hives or Patchy the Straw Man on this desolate planet.
*Grow only potatoes on your lot
*You may harvest any produce from common areas and use it to fertilize potatoes.
*Fish may be used for fertilizer. (But not eaten. Anything that can survive in the strange waters located here can't be good for a sim's health)
*Cowplant berries can be caught by fishing (needed for Freelance Botanist Aspiration) at Desert Bloom Park, in the stream at the right of the abandoned mine. They can also be caught at the steamboat dock in Magnolia Promenade (Get to Work)
Holidays:
*Edit holiday events to suit the challenge requirements. (i.e. gardening, make a resolution, appreciate object, workout, etc.)
*Cancel any holidays Mark isn't interested in celebrating prior to the day they are scheduled.
*Will Father Winter, the Flower Bunny and The Gnome show up on this desolate planet? I guess if they can find a way to get here and Mark isn't totally freaked out, he could socialize with them on the appropriate holiday.  
Vampire Exception Rule:
*If a Vampire breaks in and drinks Mark's plasma all bets are off and he may beat the plasma packs out of the vampire and become his/her nemesis. Mean socials will be most encouraged between Mark and said Vampire. (Vlad's pointy ears are burning!)
You May:
__________________________________________________________________
Eating:
*Only eat quick meals. (Coolers, Refrigerators)
*Eat Potatoes that your Mark grows or harvests from his garden or community lot.
*Do not eat any other produce that is harvested.
*Eat
a real meal from a grill
(community lot) made by Mark or a local when:
1) an Aspiration Level has been completed (1/4,2/4, etc.)
2) a career level is completed
3) an achievement stage is completed (Splice of Life, Introvert, etc)  
___________________________________________________________________
*Level up in any skill.
*Purchase items for skilling. (instruments, etc.)
*Accept free or purchase earbuds from the PC (Fitness Stuff)
*Purchase additional objects, except the items listed under "You may never" description below.
*Purchase Medicine from the PC
*Construct a living structure.
*Visit any community lot
*Harvest and collect items on community lots.
*Switch between aspirations.
*Purchase and use any rewards.
*Chat on the PC/Slablet.
*Chat on Phone (co workers only)
*Use the Social tab on the "at work" menu
*Upgrade/purchase new PCs, toilets, shower
*Pregnancy from alien abduction, the newborn may be raised by Mark or returned to home world.
Alien Offspring:
You may Never:
*Grow any produce besides potatoes.
*Eat any produce harvested other than potatoes.
*Buy Food from a Food Stall Vendor (City Living/Seasons)
*Use Cheats. Except to fix a glitch.
*Buy a stove.
*Buy a grill.
*Buy a microwave.
*Buy coffee/teapots.
*Buy the cupcake factory or any other food producing item.
*Buy a hot tub or any item  that will increase hygiene. (includes Pools)
*Visit a neighbor's lot.
*Initiate a social interaction with another sim. If a social interaction accidentally starts, stop it immediately.
(except for the
Vampire Exception Rule
listed above)
Helpful Links and Info:

Carl's Guide for Post Seasons Patch Gardening Overhaul
Good luck Mark! The whole world is rooting for you!
A huge Thank You to @EuphorialQueen for her guidance and knowledge about all things Sims 4 in testing and tweaking this challenge