Ugh. I should be getting ready for our trip but....my game was calling me.
So I gave in. We aren't leaving until the 1st, had to postpone our leaving for a couple days, last minute things to make sure the car, which I lovingly refer to as
because well that's just exactly what it is! A BEAST! Luckily I have a nephew who is a mechanic and so he had my hubby bring our car up to the garage he works at and they made sure the tranny is good to go (we just had to have him put a new one in as the one we had put in just over a year ago, crapped out. Nothing like throwing 2K out the bloody window!) And he did an oil change, checked the coolant level and he put this neat little gizmo in the air tube that will "trick" the computer into thinking that it's a lot cooler outside than what it is so we will get better gas mileage. Which is a good thing because that car sucks gas like a buffalo, hence the naming The Beast.
Anyway! Onto....
Chapter 4
"Where should we go now, Antoine?"
"I don't know. Lets just head out and we can decide which way to go once we are on the outskirts of town."
"Okay. Man this just sucks."
A little while later, while our teens were out walking the road out of Windenburg...
"Hey Jeremy!"
"Yeah? Where is that again?"
"Okay. We'll meet you there!"
"What did Jer want, Antoine?"
"He said there is a park in Oasis Springs that has showers, bbq's and a tent. He said it'll be something for now anyway."
"Yeah I guess."
"It's some place to go and we won't have to sleep out in the weather. We can always cuddle to keep warm, you know."
"Cool your jets Antoine."
"Alright. But I like you, you know. If you haven't figured it out yet Aili, I've got this huge crush on you."
"So you think you do. But there are plenty of other girls out there Antoine. You just haven't met them yet."
"Aili, I don't care if there are other girls out there. You are the smartest, bravest, girl I know. Who else would devise a plan to run away and look for their parent?"
"I don't know. Plenty of other girls I guess would."
"Nah. I don't think so."
Arriving in Oasis Springs...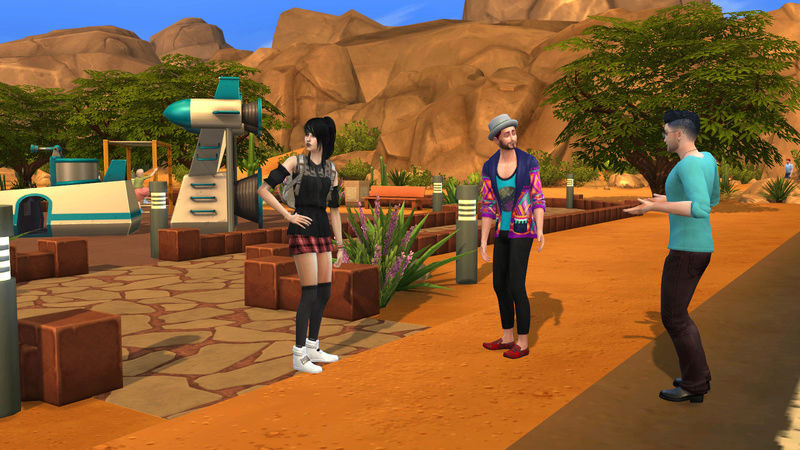 "Hey Jeremy!"
"Hey guys! I'm glad you made it okay and before it got too dark."
"Man that was a hike! We did have to jump behind some bushes whenever cars went by."
"I gotta hand it to you two. You two are some brave teens."
"Well, I for one am starving. You guys can stand here and chat all day and night if you want, I'm going to try to find some food."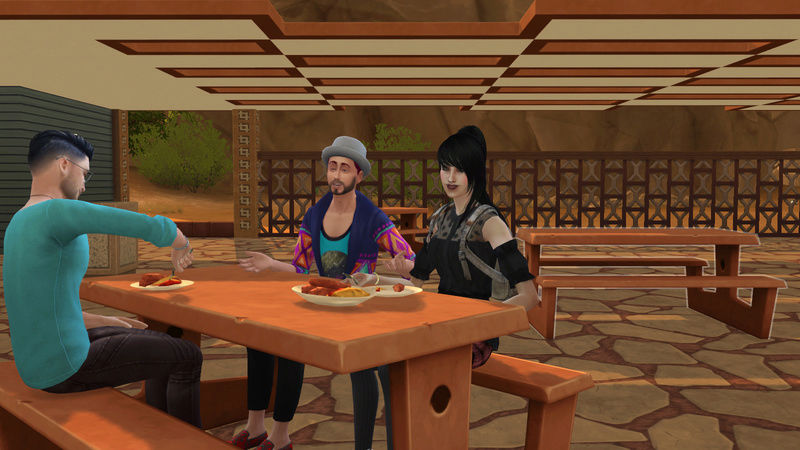 "So as you can see there is plenty of fishing spots here and the tent is behind that part of the building. I don't know who put it up here, but I wouldn't worry about it. It gets you guys out of the weather. There is also showers in the bathrooms. You guys got clothes to change into?"
"Yeah. Aili here snatched some out of the house we were in back in Willow Creek."
"Good thinking girl!"
"Well at least someone thinks so. Antoine here doesn't seem to think it was a good idea."
"I don't know why. Those people weren't coming back. Oh, yeah that reminds me. Right after you guys left, the cops raided that house looking for you and the next day the city bulldozed that house down so no one else could just crash there."
"It's a good thing I did grab what I did then. Right Antoine?"
"I guess you're right, Aili. At least we have some decent clothes to wear."
"If you guys ever need anymore, there is a mini mall in New Crest. I hear that the boutique in there is pretty easy to rip off."
"You mean stealing?"
"Yeah. I know some kids who go there on a regular basis."
"I don't know about that! Aili and I would or could never do something like that."
"Well it's an idea to keep in the back of your mind. Just in case you know."
A few day's later...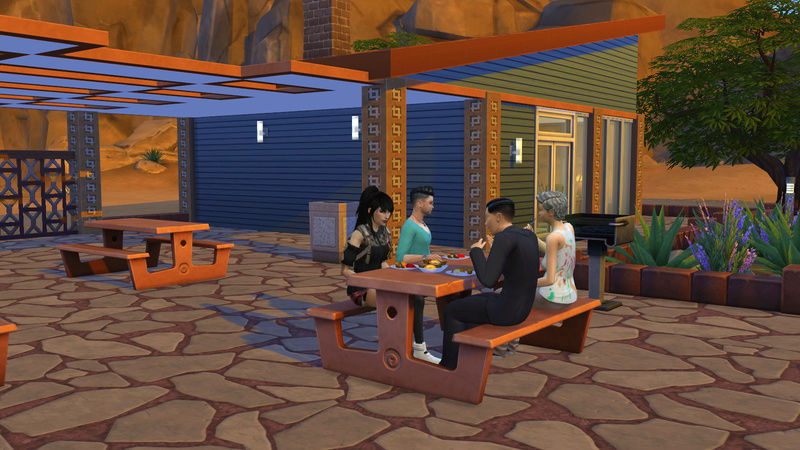 "Say. What are you kids doing here so early?"
"Oh we are early birds, sir."
"Yeah. We like to be out in nature as much as we can."
"I see you have a backpack on, little lady."
"My name is Aili. And I carry my journal in it."
"Interesting. Is it a private journal?"
"Well not really. It's mostly about wanting to find my mother."
"Your mother? You don't live with her?"
"Well no not really. I mean I have my adopted parents, but I want to find my natural mother. Some day, maybe."
"You may have some luck looking at the archives in the libraries. I know Oasis Springs library has a huge archive of all the families that live here and that have lived here. They also have some that include the towns of Willow Creek and New Crest."
"Thank you Sir! I'll have to check it out."
"You'll never guess what I found out, Antoine!"
"What? You sound pretty excited."
"While you went to take a shower, I sat in the tent and did some looking in the archives section of the library like that guy said."
"And...what?"
"I think I've found my mom!"
"What? Where?"
"In New Crest! We gotta go! Now!"
"Whoa. Hold on there Aili. Are you sure it's your mom you found?"
"I'm almost positive."
"Almost. Not 100%."
"Well no...but it's a start."
"I don't know Aili. It sounds just too....I don't know."
"Sounds to good to be true?"
"Yeah. It does. I mean what if it is true, Aili. What if it is your mom and what if she has a family, you know, other kids. How is that going to make you feel? Knowing that she gave you up but then had others?"
"I've thought about that. But Mother Harriette said that she cried when she gave me up."
"She also said your mom promised to come back for you."
"Oh Antoine! I'm confused. I want to meet her. Talk to her. That's all."
"Okay. I guess if we are going to make it to New Crest before the sun goes down, we better get on our way."
"Thanks for supporting me Antoine."
"Just know this Aili. I will do anything for you."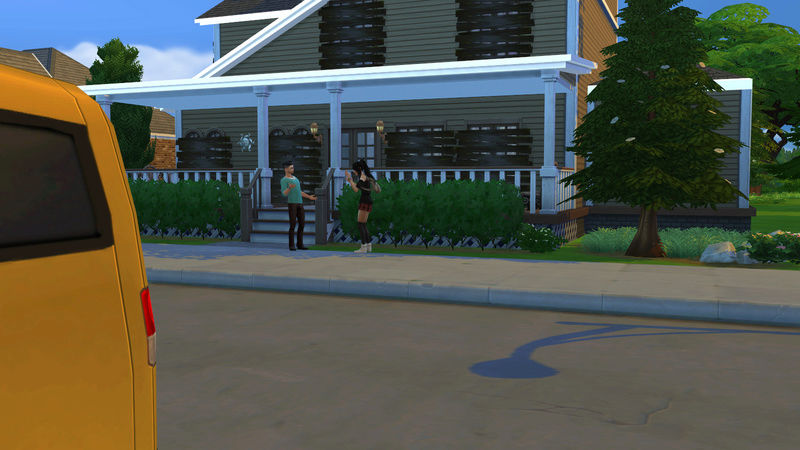 "Are you sure you got the address right, Aili?"
"Yes. I'm positive."
"Well, it don't look like anyone lives here or has for quite some time."
"I want to see if we can get in and look around. Maybe there is some kind of clue as to where she could of gone and when."
"Alright...but I don't like this idea one bit."
"Come on Antoine. We've come this far. We may as well use the place for shelter for the night."
"Yeah. I guess you're right again."
A few days later....
"What are you kids doing in here?"
"Who are you mister?"
"I'm the owner of this house. I come here to check on it. Who are you?"
"I'm Antoine and this is Aili. We're sorry to have broke in but the door was unlocked."
"Jiminey's that boy never makes sure he locks the doors."
"Who?"
"My son. He's trying to get this place fixed and updated so he can move in. This is all of his furniture. You still haven't answered my question. What are you dong in here?"
"Sir, I got this address as the last known place that my mom was living. She gave me up to the orphanage when I was a baby and I just want to find her."
"You mean you're the daughter of Lady Victoria?"
"Lady Victoria? I don't think so."
"What's your last name young lady."
"Morrissey. Why?"
"Yup. You are Lady Victoria's daughter."
"I don't understand."
"Miss. Your mother, Victoria Morrissey, moved here many, many years ago and married Lord Nelson Willow. She hasn't lived here in ages. I bought the place from her. She said she had a daughter and Lord Nelson promised to bring you home but when he visited the orphanage the head lady there told him that you had died."
"Wha...what? Mother Harriette told him...I...died?"
"What a *&%$#"
"Watch your language young man."
"How...why would Mother Harriette say such a thing?"
"Because she is a mean old hag, Aili! That's why!"
"Listen. You kids can't stay here."
"Mister. We've got no where else to go. And going back to that orphanage is really not an option."
"I've got a place. Right here in New Crest. It's sitting empty. You are more than welcome to stay there until you figure something out. Plus, you two need a friend in a high place to keep the law away from you."
"And I suppose you're that guy, right?"
"You catch on quick, son!"
"Names Antoine. Antoine Dukes."
What did you say your last name was?"
"Dukes. D-u-k-e-s. Dukes."
"Well I'll be jiggered."
"Why do you say that?"
"You just may be my grandson!"
"Uh...I don't think so."
"And why not?"
"Cause I was given up right after birth, my parents never named me."
"Huh. How old are you?"
"16. Why?"
"My daughter and her boyfriend had a son that was kidnapped from the hospital nursery about 16 years ago. They were able to name him just before and they gave him the name of Antoine Dukes. Her boyfriends name was Antoine and her last name is Dukes."
"I don't think I'm your grandson. Mother H said that she gave me my name."
"Either way. I'll take you both to my place. Stay as long as you want."
"That's awful nice of you mister."
"Here we are. Don't worry. You'll be safe here. There's plenty of food in the fridge, a pool and hot tub out back. Oh...there's only one bed."
"Guess Antoine will be sleeping on the couch then..."