Inspired by
The Martian by Andy Weir
Get to Work (GTW) and Outdoor Retreat (OR) recommended by not necessary.
Mark Watney, an astronaut and botanist, has been stranded on a desolate planet by a freak sandstorm. He has only what he has salvaged from his destroyed space station. Can he survive on his wits and be rescued by his team?
Start a new save.
Set aging off.
Pick your skill free "Mark Watney". Move him/her to Pebble Burrow, Oasis Springs. This should leave you with 18,500 Simoleons.
Purchase the "salvaged" items: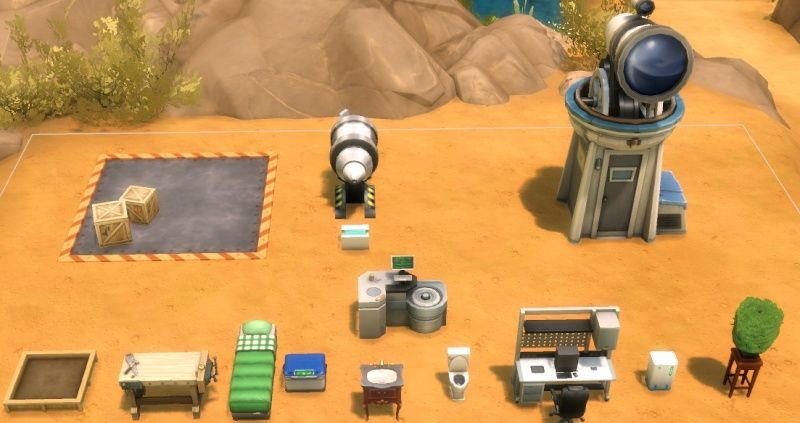 Sweet Escapes Country Toilet
Poulton Footed Sink Vanity
Air Kushin Single (OR) or Teen Dreams Single
Mega Cooler (OR) or Crisponix Budget Delux fridge
NanoCan Touchless Trashcan
Steampunk Flyamajig
Life Under a Microscope
Backyard Observatory
Chemical Analyzer (GTW)
Woodworking Table
Garden Planter Box
Geo Des-i-kal (GTW) or Drafting Desk
The Boss Executive Desk Chair
How Long Can You Go PC
The Slablet
Appreciably Average Digital Camera (GTW)
Bonsi Tree
Goal:
Mark Watney must accomplish the below listed criteria before his team can retrieve him from the planet's surface:
Become a Level 10 astronaut
Gain level 10 skills in: Handiness,Rocket Science and Gardening
Complete the Freelance Botanist Aspiration
You may:
Eating:
Only eat quick meals. (Coolers, Refrigerators)
Eat Potatoes that your Mark grows or harvests from his garden or community lot.
Eat Marshmallows or Beetles from fire pit only while vacationing at Granite Falls.
Herbs may be tasted for identification.  
Eat a real meal from a grill (community lot) made by Mark or a local when:
1) an Aspiration Level has been completed (1/4,2/4, etc.)
2) a career level is completed
3) an achievement is completed (Splice of Life, Introvert, etc)  
Level up in any skill.
Purchase items for skilling. (mirror, instruments, etc.)
Purchase additional objects, except the items listed under "You may never" description below.
Construct a living structure.
Travel to any world
Visit any community lot
Harvest and collect items on community lots.
Switch between aspirations.
Purchase and use any rewards.
Chat on the PC/Slablet.
Chat on Phone (co workers only)
Use the Social tab on the "at work" menu
Upgrade/purchase new PCs, toilets, sinks
You may use a community lot grill to make the herbal remedies.
Take a shower
once a week
at a community lot.
You may Never:
Use Cheats. Except to fix a glitch.
Buy a shower/tub.
Buy a stove.
Buy a grill.
Buy a microwave.
Buy coffee/teapots.
Buy the cupcake factory or any other food producing item.
Buy a hot tub or any item (other than a sink) that will increase hygiene. (includes Pools)
Eat any produce grown or harvested, other than potatoes.
Visit a neighbor's lot. *Exception: If your neighborhoods are full and you need to get to a certain area, you may travel to a neighbor's lot and upon arrival immediately leave an go to your destination.
Initiate a social interaction with a sim. If a social interaction accidentally starts, stop it immediately.
Helpful Links and Info:

Carl's Guide for Post Seasons Patch Gardening Overhaul
Potatoes can also be found in Granite Falls near the Ranger Stanley Jackalope Statue.
Good luck Mark! The whole world is rooting for you!
If your uploading any sims/lots/rooms use the #TheMartian