Hi everyone! Sorry it took so long but I finally have your new clients up! I can't wait to see everyone's creations
This is a Sims 4 build challenge, not a competition. There are no prizes, no winners, just simmers....creating together and having fun.
Requirements:
* Sims 4 game( some expansions and stuff packs may be helpful)
* Third Party CC may be used. Give credit to the Creator, thank you.
* tesingcheats may be used. examples: bb.ignoregameplayunlocksentitlement bb.showhiddenobjects bb.moveobjects , for full list see
SimsVIP Cheat Codes
*The cheat  
moveobjects on
may be used but the home renovation or build must be playable.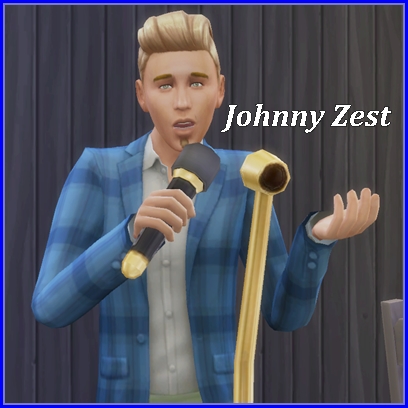 Johnny Zest has just landed the biggest gig of his life! He has won a million simoleon contract from The Solar Flare lounge in the
Oasis Springs' Got Talent
competition. Not only that but he is marrying his long distance sweetheart,
Penelope Pizzazz
. It seems Johnny may have
stretched the truth a bit and "exaggerated" the details
of his home. He has his advance from the contract of 200,000.00 simoleons and needs your help.
He is very attached to his home @ Slipshod Mesquite but it desperately needs improvement before Penelope arrives! He is open to either a renovation or  new construction of his home but it must be built on this lot because a Zest has lived on this spot since the beginning of time....well actually, the local lore states that there is buried treasure somewhere on this piece of land and Johnny is not moving until he finds it. If the treasure is found, he could be persuaded to move to another lot. Just sayin'.
What will it take for Johnny and mostly Penelope to Love the Renovation or List it and approve the New Home? Let's see.......
Johnny's Must Haves:
A Swanky ambiance of the space.
A second level or more with a roof top bar/with hot tub
A space to write and practice his comedy routines
A space to entertain his adoring fans
Buried treasure, if he is to be convinced to move off the original lot.
Penelope's Must Haves:
Beautifully landscaped flower gardens
A pond for fishing....Angling Ace is her Aspiration.
A gazebo and decks for rest and relaxation....keeps her man grounded.
Bedrooms to fill with children
A guest house for her parents....who will be visiting often.
The Renovation: "Love It"
*You may not remove any exterior walls....but you may add to them.
*You may remove any interior wall, doors or windows and change the number and placement of each,if you wish.
*You may recolor anything in the house that will allow it ( including walls, window,doors, objects)
*You may add a basement (under home or anywhere on lot)
*You may add additional levels ( levels my extend over the original footprint)
*Landscape plants may be sold but you must replace the landscaping. For instance, sell all the bushes....replace them. The items can be of lesser value and lesser number.
Budget:
200,000 simoloeon plus your household funds. Use motherlode (4x). Should make your household funds: 203,590 simoleons. Household items may be sold to increase your renovation budget.
New Build: "List It"
New Build on original lot:
Start a new save with Johnny Zest. Bulldoze the lot.Use the motherlode cheat 4x and You will now have a budget of 224,156.00. simoleons.
New Build on any 40x30 lot:
Start a new save with Johnny Zest. Move by phone (Tick to Sell Furniture) to any 40x30 lot in any world. Remember that in Oasis Springs or Willow Creek that cost of the lot depends upon which residential area you choose. In Newcrest all 40x30 lots are 3,000.00 simoloens. Household funds should be 23,156.00 (Newcrest). Add 200,000.00 to funds (Motherlode 4x) for a total of 223,156.00 simoleons.
** You must display the "Buried Treasure" somewhere on the lot....inside or out. " Be sure to let us know what you uncovered!Optional Sim Challenge:
Create Penelope Pizzazz
Ambition: Angling Ace
Traits: your choice
If uploading Penelope please share your link.
Due Date: None. No time limit. Do as many versions as you like.Your homes must be playable. Please test them before uploading.
Use the
hashtag LoveItorListItZest 
if you're uploading your creations to the gallery.