Thank you MW and BG  
I've had a call from Jupiter. I guess it's about the scientist career I once talked to him about.
Jupiter: "Hey, nice that you stopped by."
player: "It's what I'm here for. What's up?"
Jupiter: "I did something, something you might not like."
player: *frowns*
Jupiter: "To make it quick, I moved out. Took Thunder with me."
player: " YOU MOVED OUT? Where to?"
Jupiter: "See, I didn't tell anybody. All that clingy family stuff, it's more a human thing. I just took Thunder, grabbed a cab and here we are, at our old house."
player: "Your old house? The Daisy Hovel? But it's all empty, as far as I remember your dad took everything with him when you moved."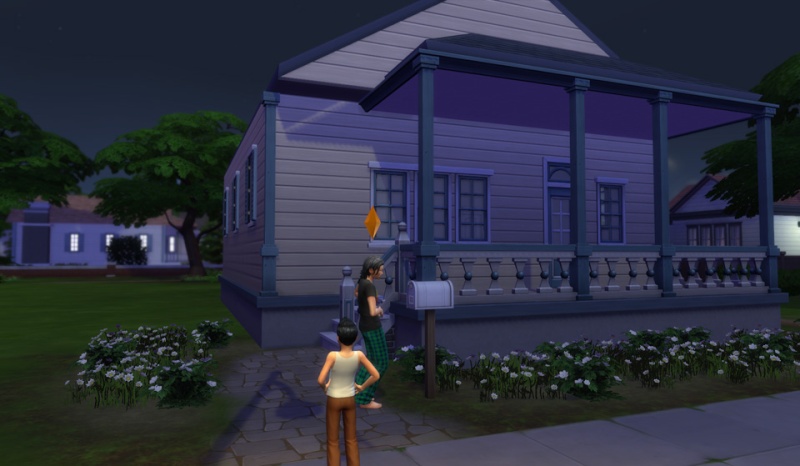 Jupiter: "And that's where you come in. You see, I bought his house back because it was cheap. And it has this basement; which is perfect for my plans."
player. "Uh, you have plans?"
Jupiter: *stares* "Of course! I'm not stupid, remember: Genius? Anyway, I've thought about that scientist career you told me about. And I really want to know where I come from, where Thunder comes from. I didn't want to tell Dad. Maybe he thinks I'm not thankful against him if I pursue my origins."
player: "Oh yeah! Leaving without a word, taking away his grandson ... that's a real prove of your thankfulness!"
Jupiter: *groans* "Ok, I'll fix that, but can you please help me furnish this house? Just the essentials for now. Pleaase?"
player: "I gave you a double bed, shower sink and toilet; no kitchen, but I figured you needed a computer."
Jupiter: "Thanks so much! I will keep my job in the Tech Guru career. We need some reliable funds coming in to get going.
Dad showed up, he says he is Ok with us living in our own place. He can drop by anytime he wants.
I started a new garden with the fruit I brought from the old one. Thunder will grow up soon."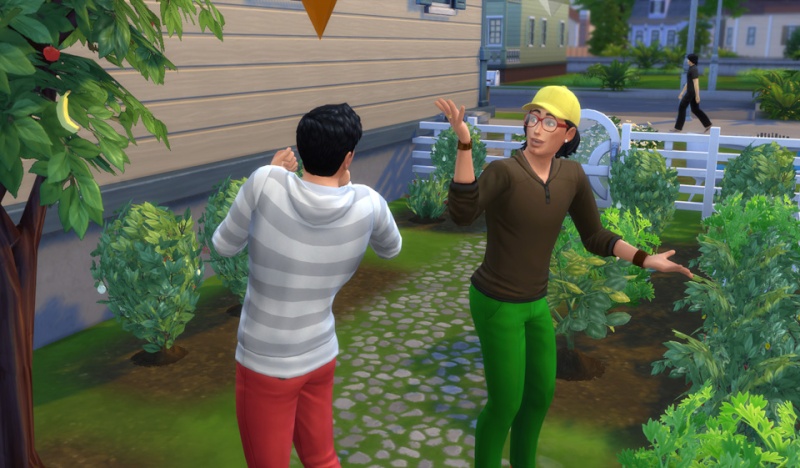 Jupiter: "Thunder hit off gardening nicely while he was a teen. He became an outdoor lover on top of his art lover trait.
With my salary from the Tech Guru career, some video games I developed and not least the fruit of Thunder's garden we do well.
We have a nice kitchen, couch and big TV. A rocket launcher is settled in the back of our lot and the boy eyes it greedily.
He can't wait to grow up and be an Astronaut."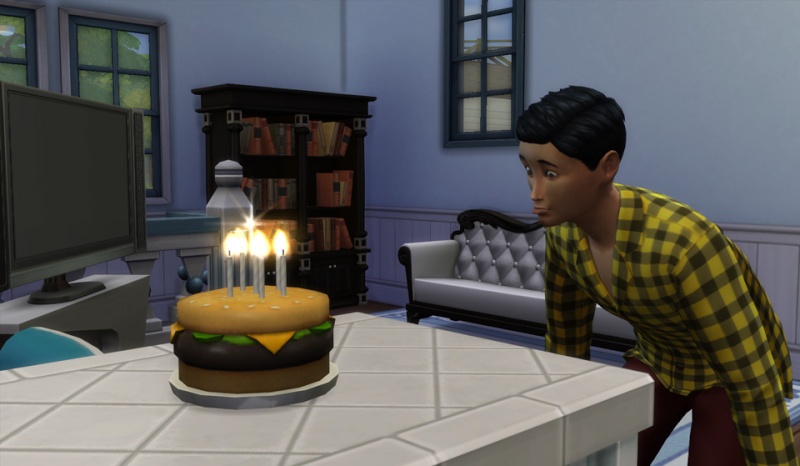 Jupiter: "And finally I reached the top of Tech Guru Career."
player: "Since you mention it, I put in the unlocked room into the basement. Enjoy the paradise of electronics!
And before I forget, I gave you an advanced start for you new career. Since you have done one already and have to start anew: I bought you the 'well connected' trait."
Jupiter: "Awe, I don't know what to say."
player: "You're welcome. Make me proud."
Jupiter: *snickers* "No pressure at all. - And here I am, on my first work day."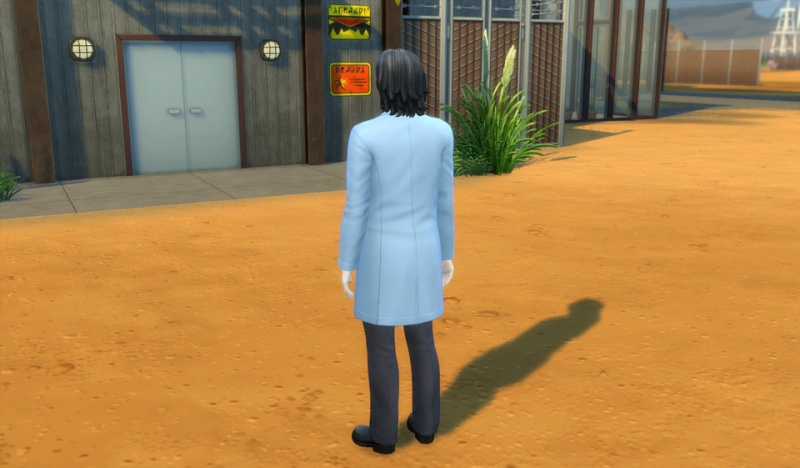 "... and I start at level 4 Serum Sequencer"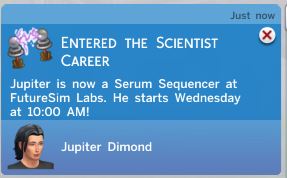 Jupiter: "That was a tough start. Everybody assumed I knew what I was doing. So nobody really gave me pause. The first day was collection day. Very funny! The dig spots hadn't spawned yet. I hardly got all the collectables they wanted, forget about getting anything else done.
But then things got easier. I discovered that the invention machine is a good pal. It helps me brainstorm, and is a reliable 'partner'; which can't be said about the chemical mixing station, but more about that later."
"After a few hard days I got myself established and earned a promotion:
Jupiter: "At home Thunder is very happy with his Astronaut career.
He has met a girl, who hangs around our house more than not when I get home. I'm happy for him.
"A strange thing I discovered, and I hardly dare to tell you:
When I checked on the genealogy of me and Thunder - you know I'm in this career and all to find out more about our origin - I was stunned to see, that Me and Thunder have the same pollinator (I think that's what they call it)."
player: "
 WHAT???
That would mean your son Thunder is also your brother! The game must be mistaken."
Jupiter: "It seems gross, doesn't it? But what can I do? I won't tell Thunder though, don't want him to feel weird. I mean more weird that being an alien. -  Maybe it's normal in the alien (our) world? *shrugs*"
player: *gulps* "I think you are very brave about this."
Jupiter: *shrugs again* "Tell you the truth, I had much worse to deal with:

player: "WOAH!  
 "
Jupiter: "Tell me about it!"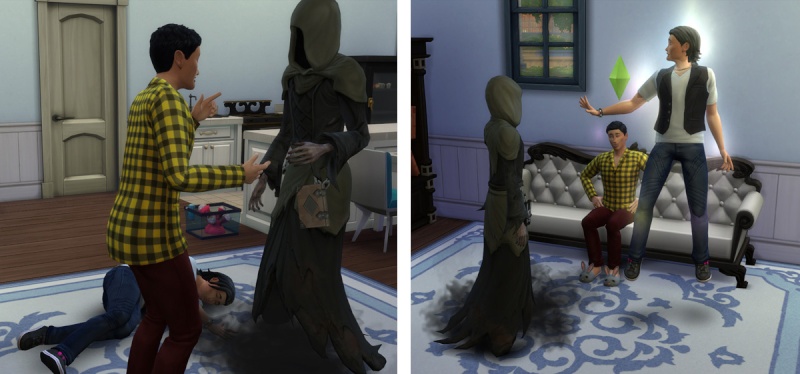 "Good ol' Thunder, confident like a lion in a rabbit cage, threw himself into Grim's face and demanded to spare me.
I don't know what he said - well I was kind of not right there - but somehow it worked.
He definitely earned this special moodlet:"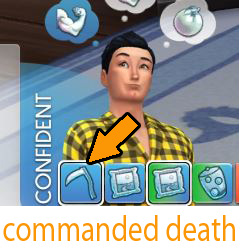 Jupiter: "I found my footing again and went back to my job, more intent to find out about aliens than ever.
About that chemical mixture station: I have done so many mixtures already, but I can't figure out how to get it right. Some are good, some just do nothing and the majority is somewhat tainted. I tried some on myself.
Like with all the work and stuffing food in my face when I'm home I got a little bigger. When I discovered the Slimify mixture and tried it - well, I didn't know the meaning of 'bigger' before. Jeez! I had to make three more before I got one that was not tainted and switched my figure back to slim - finally!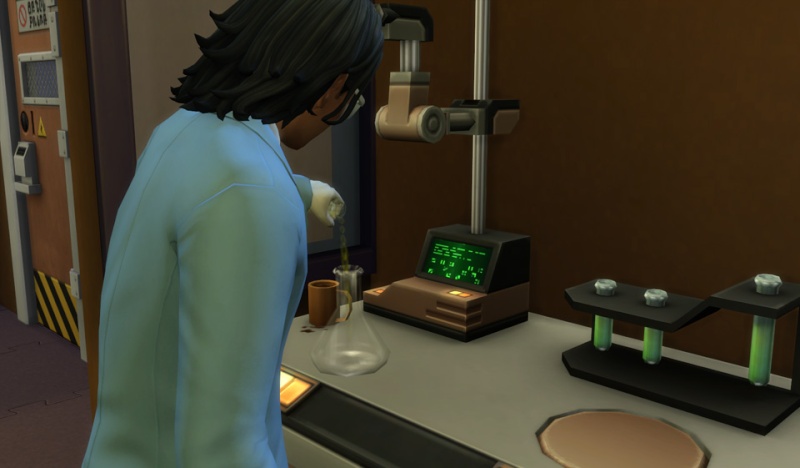 "I guess with all the extra work on the mixtures, I made another promotion happen.
I'm now level 6:
Ufologist
- Yeah, getting there!"
player: "Phew! What an adventure! I hope you eventually will find your pollinator and learn more about you and Thunder."
-