Yes EQ, hurray
for progress! LOL. Gosh this is harder than I could ever imagine. I have had to force myself to not hit ctrl + C motherlode!
It has taken great resistance.
I'm going to do several (Sim) days worth of updates, for two reasons. One being with Lucy now working the day's go by fast and she spends every morning at Zest's home until work and then just piddles around after work at 5 pm till bedtime. And two, I won't be on tomorrow as it marks the 2nd anniversary of my mom's passing.
It's still hard to believe she is gone much less it has been 2 yrs. And it also reminds me of the fact that in 11 days from tomorrow it will also be 2 yrs since my youngest granddaughter passed.
You can say October 2012 was a very rough month for me and my family. First my mom had a major stroke, I flew home from Louisiana to Michigan to be by my mom's hospital bedside, attend her funeral and while I'm still back in my home state helping my dad, I get a phone call that my granddaughter who was 23 months to the day (1 month to the day away from turning 2) passed in her sleep. So I had to make another emergency flight home to attend another funeral.
Okay. Before I break down and can't concentrate on getting this update done, I need to buck up and get this posted.
Day 7
Started with Lucy almost over sleeping until I woke her up so she could go tell Zest the good news and so she wouldn't be late for her first day at work. That would not have made a good lasting impression with the boss.
Zest! You will never believe I've got a job!
Lucy that's wonderful news! What are you doing?
I'm in the Painters career and I'm starting out as a palette cleaner.
I'm so happy for you!
Can I use your facilities? I really gots to go.
Sure Lucy. Get ready and come have some breakfast.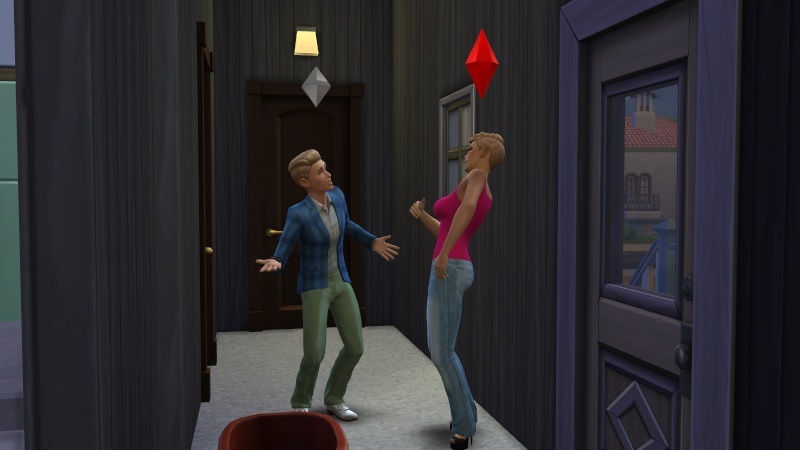 Lucy refreshed herself, sat and had breakfast with Zest and chatted a bit and then she had to go to work. She returned at 5 pm and she made 168 simoleons for the day. Her job came at good time to as she received her first bills due notice. 52 simoleons!
Feeling quite proud of herself, things were starting to come together, slowly but they were on the uphill swing. She's found not only a best friend, a really sweet guy, but she's fallen in love for the first time in her life, she felt like celebrating a bit so she hit the local bar and treated her self to a fruity drink. Cost 10 simoleons.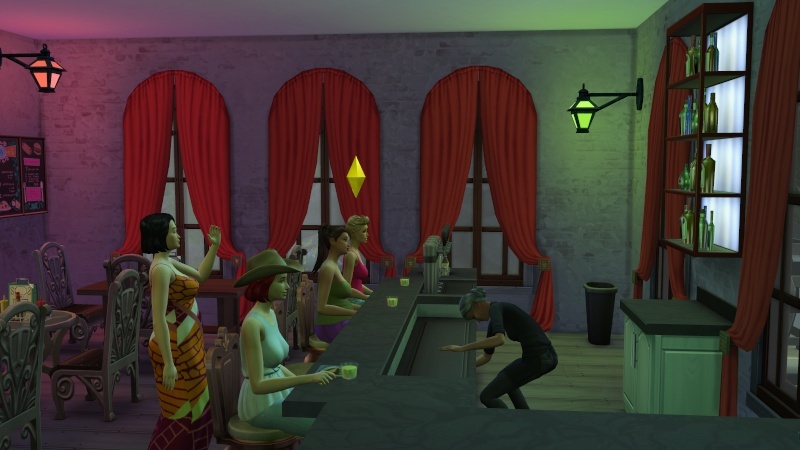 Then she went home and went to sleep.
Household funds
            628.00 (from day 6)
         + 168.00 (work earnings)
-------------------------------
            796.00
          -  52.00 (bills)
          -  10.00 (drink)
-------------------------------
Total      734.00
Day 8
Day 8 was just like the start of day 7, Lucy woke early and headed straight to Zest's home to see him before work. As the normal routine was being set, she'd knock, enter, give Zest a kiss and hug, shower eat and chat, then head off to work.
But today after work, Lucy went to Zest's home only to find him not there. She was beginning to wonder where he disappeared to every night.
Note to self...ask Zest where he's been gone to every night. Man I wish he was here. I'm so stressed from today I really need a friend right now.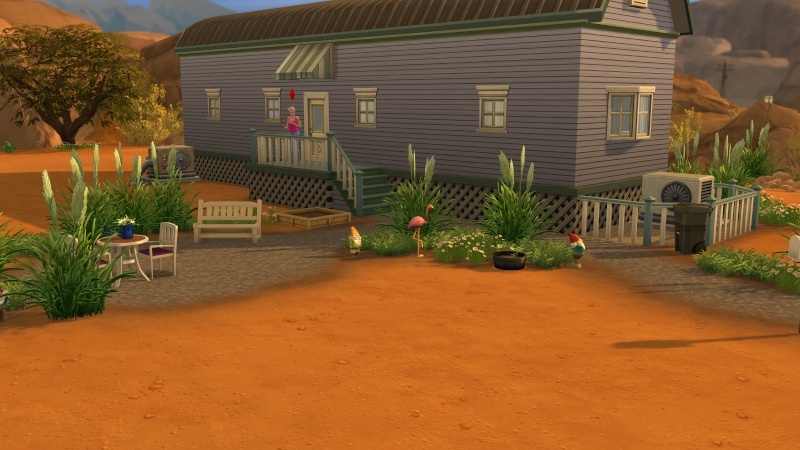 Then she decided to go see a fellow painter, Natasha. So she headed to Willow Creek hoping after taking the railway then the ferry boat, Natasha would be home.
After having a nice visit with Natasha and her family, Lucy returned home and to bed.
Household funds
          734.00 (from day 7)
       + 168.00 (work earnings)
-------------------------------
Total    902.00
Day 9
Same routine as the past couple days. Wake, visit Zest, go to work. But today when Lucy arrived home..........
She got Promoted! Yay Lucy!
And she decide to visit the park, her old haunt.
 There she found some hamburgers left by a friendly visitor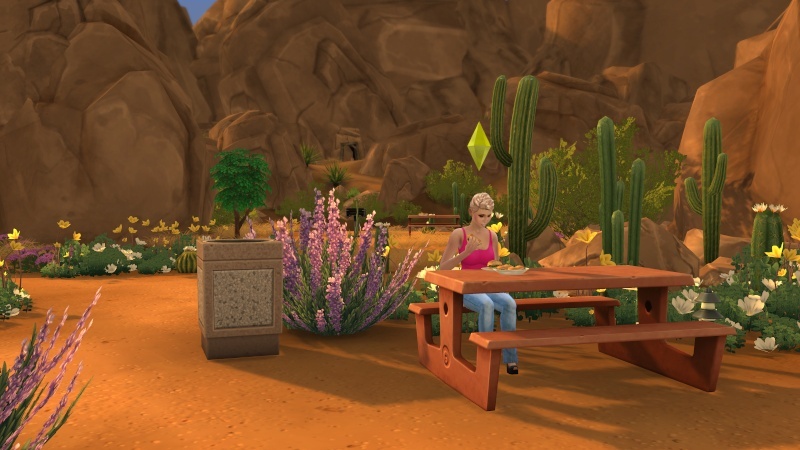 Then while she was looking around for some rocks to smash, she ran across a open cave. (One of my other sims that I play has level 10 handiness and opened the cave up)
Wonder what can be in here? Where does it go?
Whoa! I can see anything. Maybe I'll just stand here for a bit. That was kind of scarey, hope I can find my way out.
What a beautiful quiet place! I'll have to bring Zest here.
(Then she saw some rocks)
Alright! Rocks!
She found 1 quartz worth 30 simoleons, and 1 Gonk doll worth 25.
Wait...what is that splashing I hear? Holy Moly! Wonder what kind of fish I can get in here!
Lucy caught 1 minnow worth 6 simoleons and 3 Batfish! 1 worth 87, 1 worth 47 and one worth 41 simoleons! Score!!!
Then she headed home as she imagined it was getting pretty late.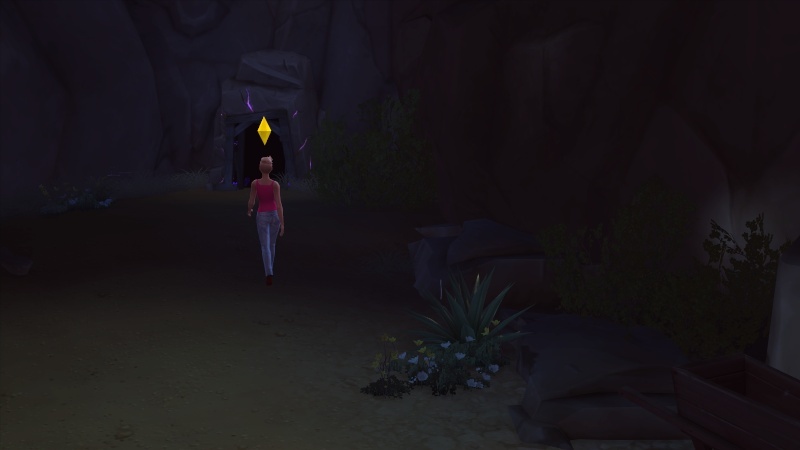 When she got home she had a surprise waiting for her again.
Lucy now has a box! With a door and a window!
So she went into her box and went to sleep.
Household funds
             902.00 (from day eight)
          + 168.00 (work earnings)
          + 422.00 (bonus from promotion)
          +   30.00 (quartz)
          +   25.00 (doll)
          +  181.00 (fish)
----------------------------------------
Total      1728.00
          -   90.00 (door)
          -   30.00 (window)
          -  480.00 (additional walls)
----------------------------------------
Total for day 1128.00
Day 10
Zest was very chatty this morning. Lucy was almost late getting out the door for work. He chatted to her, hugged her. You could say he was going through Lucy withdrawals!
So how has work been going Lucy?
It's been going great! I got promoted. You are now looking at an Art Book Collator.
That's fantastic!
I see that you now have a box over there on your land. It's starting to come along.
Yes! Isn't it wonderful! No more sleeping outside. Although sleeping under the stars isn't that bad, but it does get a wee bit chilly willy.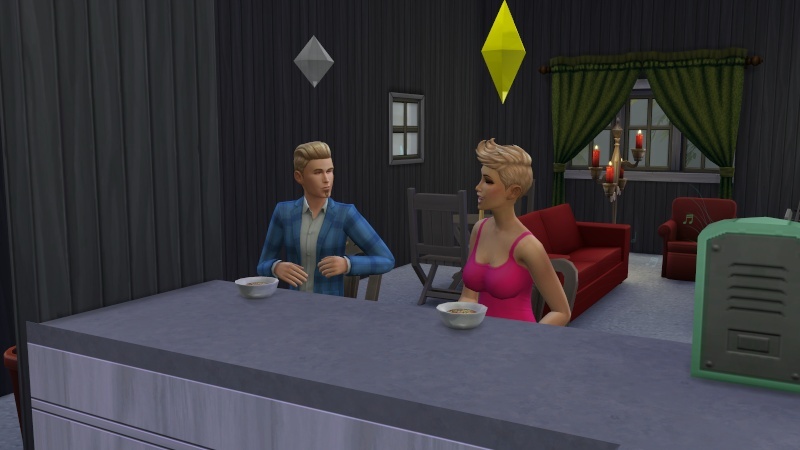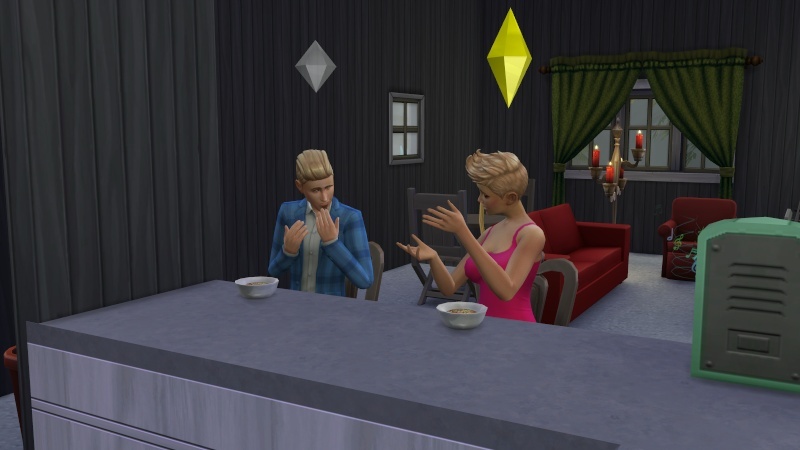 I have missed you Lucy. It seems like we never get to see each other anymore. Our mornings go by way to fast.
I know. I've missed you too.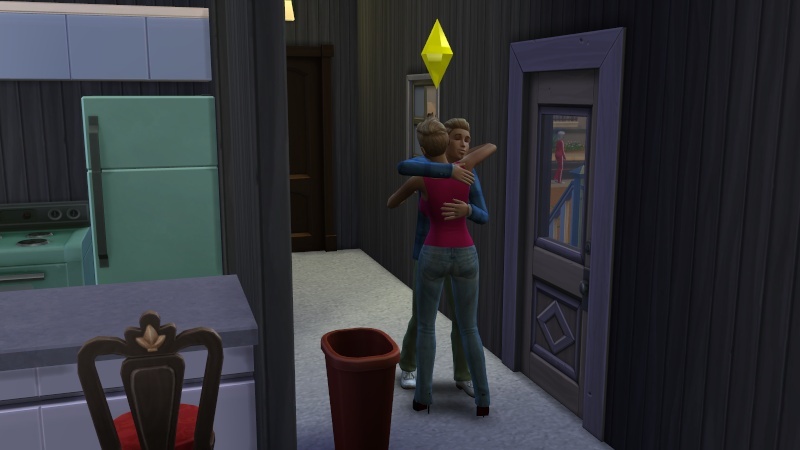 That reminds me, Zest. I came one night after work cause I really needed someone to talk to cause work was just a nightmare. And you weren't home. It's not the first time either. Where do you go at night?
Haha. Oh Lucy. I do have a job you know.
Oh...silly me. Of course you have a job. How else would you be able to keep such a nice place. But I really have to go. Even if I don't want to. I could stay here like this all day.
Nope, you gotta go to work. We'll have later.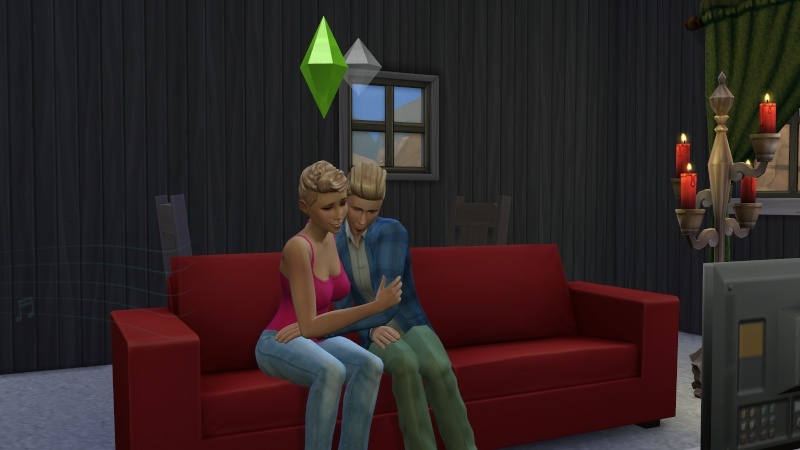 So Lucy went to work, came  home from work and then she just went wondering around town. She stopped in at the Lounge, the gym, the bar and was so bored she decided to just go back home and get ready for bed.
Household funds
               1128.00 (form day 9)
           +    184.00 (work earnings)
------------------------------------
Total          1312.00
            -      10.00 (drink at lounge)
------------------------------------
Daily Total    1302.00