Pulling myself out of build mode as I suddenly realized what day it is today. HALLOWEEN! So lets check in with Zest, Lucy and kids and see what's happening?
Early in the morning Zest decided he was going to surprise Arya and Makenna by repairing their broken doll house before they woke up.
Did you fix the girls doll house, Zest?
Yes I did Luc.
Oh they are going to be so excited.
All nice and new looking
Morning sweetheart!
Morning mom and dad.
Makenna, did you see your dad fixed the doll house?
Yes I did! Thank you so much daddy!
You're very welcome dear.
Are you ready for trick or treating tonight?
Uh-huh. Yup I sure am. I'm going to go as Yoda.
Ummm, why yoda?
Because Ayra is going as a ballerina and I didn't know what else to go as.
Why not a witch or ghost or...
Uh-ah. No way Emmet! Everyone always goes out trick or treating looking like that.
Oh. Okay.
Well tonight is also my birthday, so I'm going to go out as Darth Vader.
Now that's an interesting costume, son.
Yeah, I know. Yoda, come to the dark side...
Emmet, don't talk like that! It's scarey!
Sorry Mak. I was just trying to have some fun.
So kids. There are a few rules that your mom and I thought we should cover with you before we go out trick or treating.
Rules? There's rules for Halloween?
Ah come on dad! We don't need rules! We're suppose to go out and have fun!
Yes your mother and I know that. But there are some things you need to remember.
Okay dad. What are they.
Number 1. Stay together
Number 2. Don't eat any candy that is unwrapped.
Number 3. Your mom and I need to inspect your candy before you eat it.
Why so you can steal some?
Emmet, mom and dad wouldn't steal any of our candy! Now hush let dad continue.
Your such a mommy and daddy's girl, Ayra.
Am not!
Is too!
Am not! Dad!
Emmet stop. Or there will be no trick or treating tonight.
See! See what you did Emmet! Now we can't go out tonight!
That's not what he said, Ayra! Chill out already. Sheesh.
AHEM! Now as I was saying, you two.
Number 4. Do not go to any homes that don't have an outside light on.
Why would people not have their lights on?
Because Mak, some people don't celebrate Halloween.
How come dad?
Yeah why?
Because some believe that it isn't a "good" holiday. They believe that it is a holiday for evil ones.
Who's that!
People who do bad things, Ayra. Sheesh. Don't you know anything?
Dad make Emmet stop picking on me!
Emmet. Please stop. Your sisters may not know as much as you because they are younger than you are.
Alright dad.
"You gonna steal our candy?" You're so stupid Emmet.
Oh like you didn't think the same thing? Like right, Mak!
Well at least I didn't ask the stupid question! Stupid!
You're stupid.
No, you are.
Uh-ah, you are.
If you both don't stop, you're both going to be stupid when dad hears you and we can't go out tonight.
Stupid
Stupid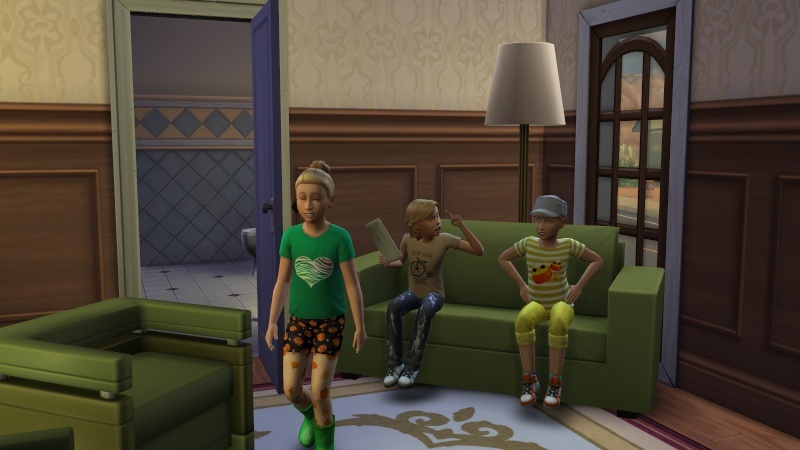 Later that evening, just as Lucy arrived home from work, Emmet became a teenager!
(Don't ya just love what Lucy is wearing? That's her work uniform! Lord how I wish I could change that!
And the look on Zest's face is like "My eyes, my eyes! You're blinding me with your sparkles!" )
So now that Emmet is a teen, his lifetime aspiration is to become a Master Chef. He ended elementary school with a B, lets hope he can do better in High School!
And here is the family all dressed up and ready to go out trick or treating!
Have a safe and Happy Halloween everyone!