@Buttonsginger wrote:

Yea! Aren't we all having fun

What a great start, I love the rattlesnake reference  towards the real estate  agent!  I am so looking forward to more!
Thanks Buttons! More coming right up!
In this update to Lucy's Rosebud Challenge, One Broke Sim, I will have 2 days in stead of just one. Because of her sleeping arrangements and times just doing one day would of been extremely short. So here we go......
Day 2
Oh my back is killing me! I have got to do something better here. Sleeping on benches in the park, sofa's at the gym and bar and now this one are just...not...cutting it. I wonder if there is anything else I can dig up to earn some extra cash. I know, I'll go rummage through the trash can and see if there is anything good in there.
Nope. Nada. Nothing. **sigh** Maybe I can find some more rocks to smash.
Lucy did find several rocks to crack open, in 4 of them she found:
4 Time Capsules each one had: 1 Violet Doll worth 75 simoleons, 2 Chaz McFreeley Dolls one worth 35 the other 15 and 1 Hopper Doll worth 20. She also found a Limestone fossil worth 50, Ozinoid worth 25, Phozonite worth 15. 1 Turquoise worth 50 and another Rose crystal worth 20.
While she was doing a dig, she had a visitor.
Hey chick what are ya doing?
What does it look I'm doing. Filing my nails? Getting my hair done?
Hey now, no need to get all nasty. Just tryin to be a bit friendly is all. Like to get to know the person behind those luscious curves.
Listen buddy, I don't have time for you. Can't you see I'm just a tad bit busy here? I'm hungry, tired, smell like a dried up tuna boat and no, I'm not interested in you wanting to get to know me at this particular moment in time! So back off!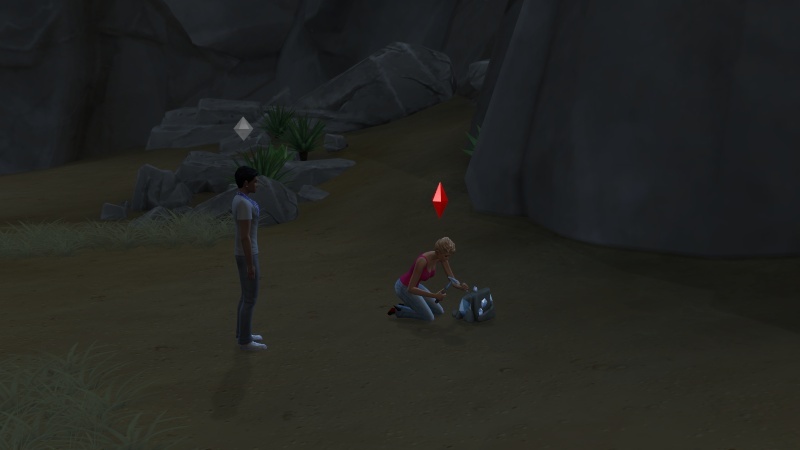 We can all see this challenge is starting to take its toll on Lucy, she was just a tad bit mean to that nice young fellow. But she pressed on, and managed to score 2 minnows bringing her in an additional 10 simoleons. We're getting up there! Woo! But she was starting to really feel the effect of sleep deprivation and she didn't want to sleep on the sofa or park bench anymore so she headed to a neighbors house that is across the street from her empty lot or home.
I really do hope someone is home. The other two neighboring homes are empty, I pray this one isn't. I need a bed to sleep in, even if it's just for one night. Hope this neighbor doesn't think I'm being to forward.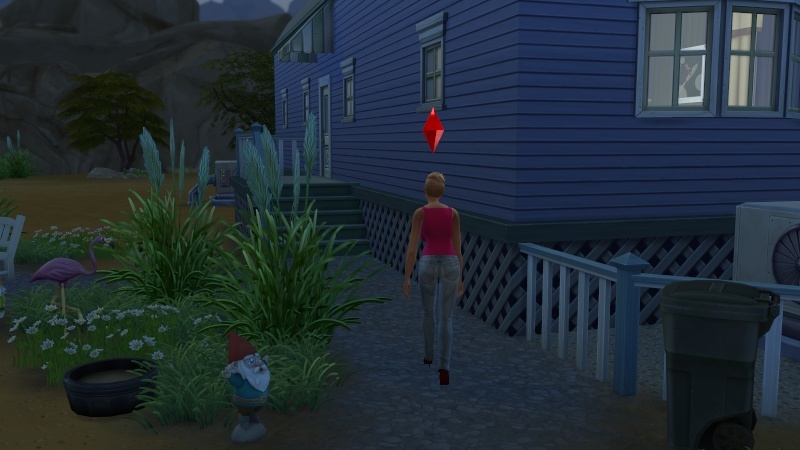 **knock, knock** Hey come on in! Doors open!
Hi I'm Lucy. I bought that piece of land across from y'all.
Oh hi Lucy. I'm Zest. Zest Johnny and it's just me here. Lonely, single little ole Zest. I mentioned SINGLE didn't I?
Look...Zest, I don't want to sound mean or grumpy. But I really need a bed to crash in. Do you mind?
Make yourself right at home Lucy. Stay as long as you want or if you prefer you can crash here whenever you feel.
Oh thank you Zest! I really appreciate it. And you know what? You're an alright guy. Don't know why you're single.
So off to crash in Zest's bed she went.
End of Day 2, total household cash....315 simoleons + 50 from yesterday = 365 total.
Day 3
Oooooo...I gots to pee like a racehorse! I sure do hope Zest isn't using it!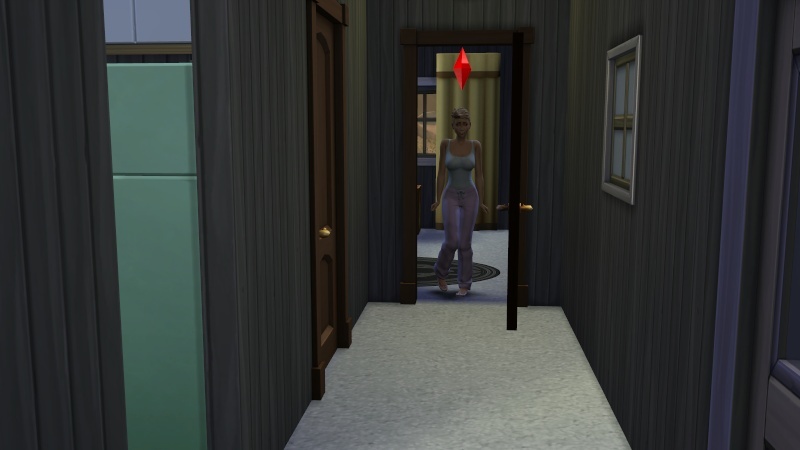 Good morning or is it afternoon Zest?!
Well look who rose from the dead. I was beginning to wonder if you were alive in there, but I didn't want to bother you.
You're too kind, sir. You don't mind I grabbed a bowl of your yogurt do you?
Nah. Help yourself, Lucy. Me casa is you casa.
Huh?
Nevermind. So you're the one who bought that piece of land across the way. How come you haven't built a home on it yet?
Long story, maybe someday I'll tell you the whole thing, but let me just say this. I was snookered by a snake of a man. He promised me a piece of land that would be just the perfect thing for me and it had everything I would need and it would only cost me my beneficiary money of 20,000 simoleons. Got here, excited as all get out and yeah. I see what 20,000 simoleons will get ya these days. A garbage can and a mailbox. By the way have you seen the mailman over there at all?
Nope can't say that I have, but they usually only run on Mondays.
Oh I see.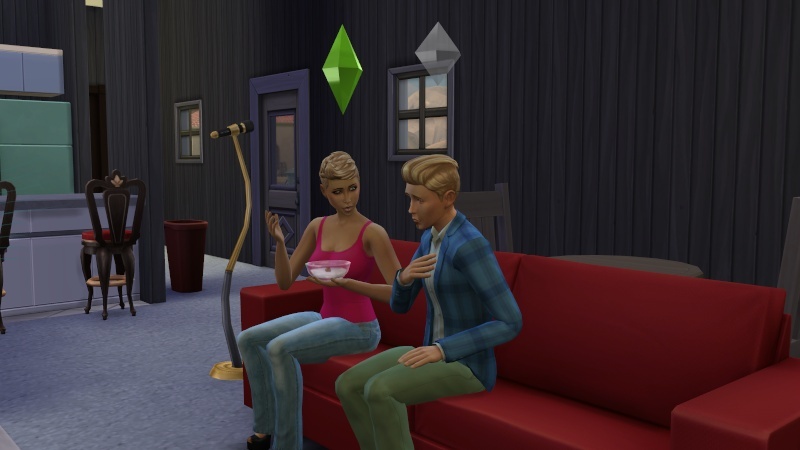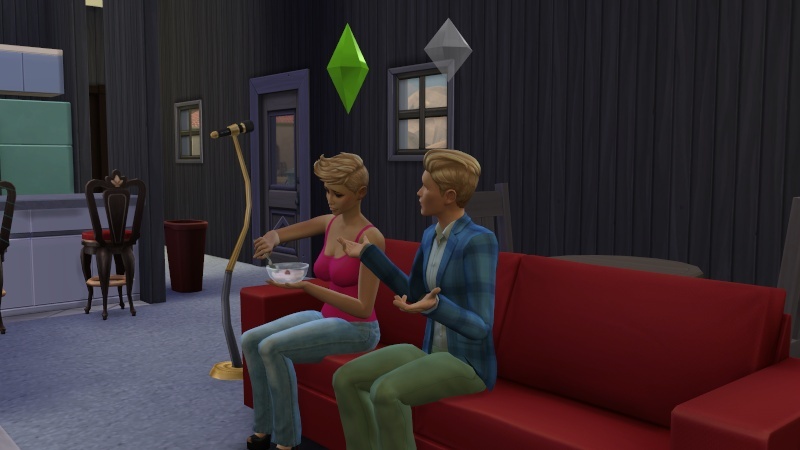 Hey lets dance! Get our boogie on.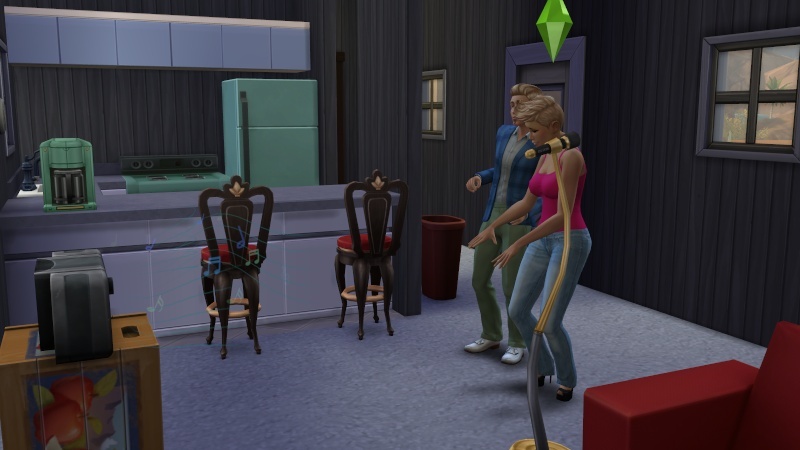 Do you mind if I make some scrambled eggs?
Go right a head, I don't mind.
You want some?
No thanks, allergies to eggs.
Oh okay that's too bad, they are great for ya.
After Lucy made her scrambled eggs, she washed all the dishes for Zest, had an amazing cup o joe and after she went potty, Zest had fallen asleep on the couch. So she headed to town to check out the Museum
Then she went to the gym to work out, fixed the broken shower and scavenged for parts.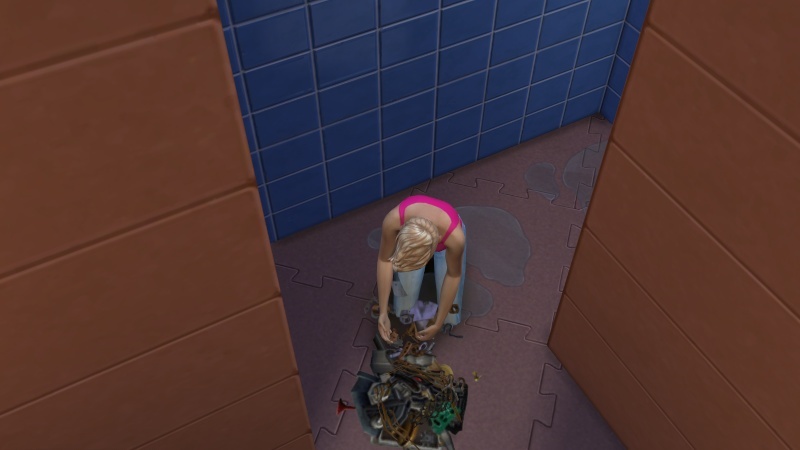 Then she headed to the lounge which she didn't stay longer than she had too on count of this snobby woman who was just down right nasty to her.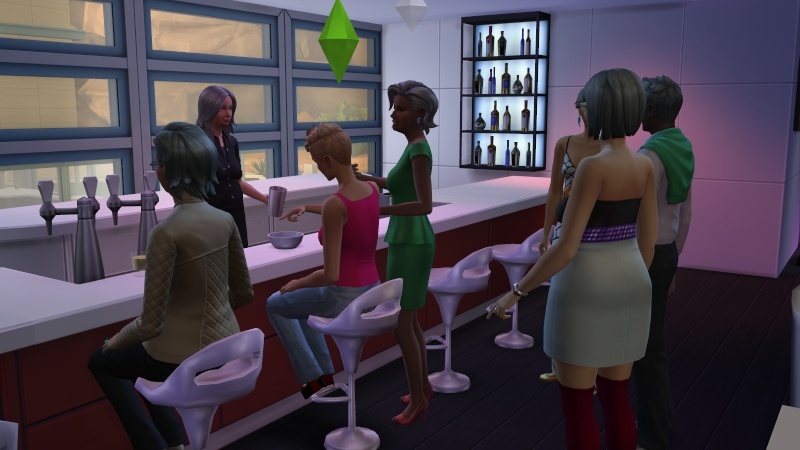 Listen honey, eating chips is not going to land you a husband. And wearing those...clothes. Ugh. I wouldn't be caught sleeping in such an ensemble. Heavens the way you young girls dress these days with all your worldly possessions popping right out there. I would be just horrified if my J brought home a tramp of your sorts.
Look here lady! Just for your information, not that it is any of your biz, but this happens to be the only thing I own. And besides, I'd be horrified if your precious...J,brought me home to meet such a snooty woman like you!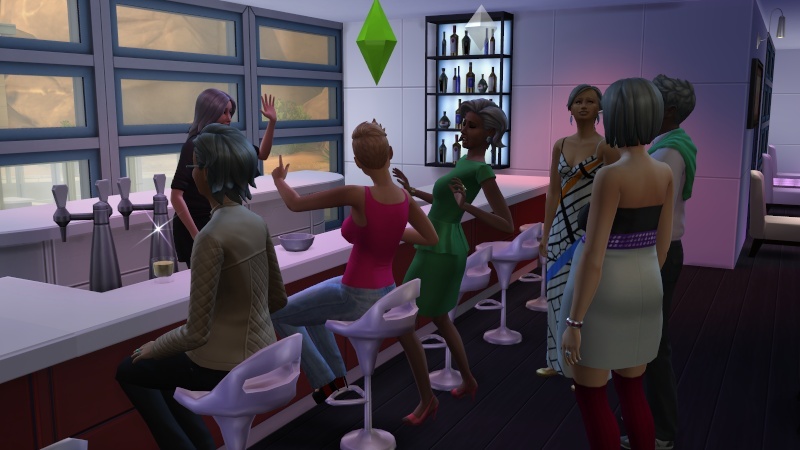 Okay time to get Lucy out of the lounge. I sent her back to the park to see is she could dig up anything else.
No luck, guess nothing had a chance to spawn yet. So I sent her to her own home lot for a little surprise.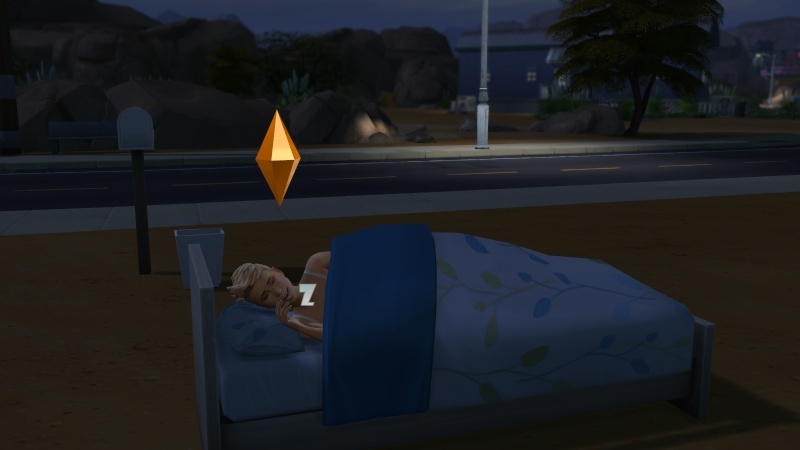 Her very own bed, her first purchased item!
That's the end of Day 3. Total household income....62 simoleons. -3 for scrambled eggs and -300 for her bed = 62 simoleons left over from 365. Day 4 will be back to the grind of digging up some more moola.