Thanks BG and MW for reading

We are back with Chapter 11 - Not all that Evil
Persephone wasn't thrilled when Marlene moved in with Dionysos. She gave the new one a hard time; never seemed to warm up to her.
But Marlene dished out as good as she took, I think while pretending to help Persephone with the garden she 'accidently' pointed the sprayer towards Dionysos' sister.
Gardening is one of the main sources of income for the family. the bills are up to almost 10,000 now.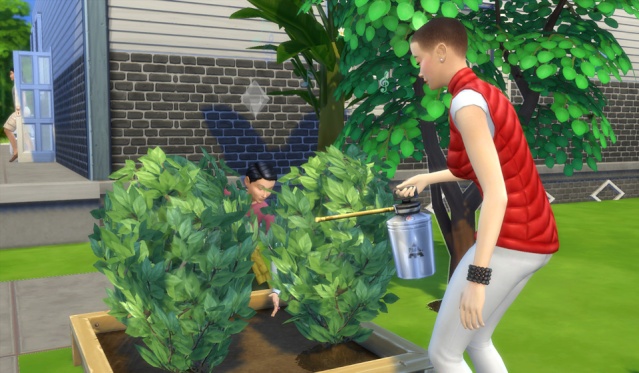 Dionysos and Marlene had a big wedding at their house. Unfortunately Marlene had to take a shower the moment they were meant to exchange vows. So you will not see her gorgeous red wedding gown  
.
Why is it there always comes something up when the big moment arrives? One of my Sims has to shower, use the toilet or simply decides to slip into bed ...
Anyway, I managed to get Marlene back to the ceremony in time. They shared the first piece of the cake:
Dionysos is doing well in his job. He has maxed out the cooking skill and is at level 6 in gourmet cooking. Way to go!
Apollon jumped out of the cradle and gained the
Evil
trait with the
Rambunctious Scamp
aspiration. He never sits still. On one of his excursions through the neighborhood he found out a new family had moved into the old Goth house. They have two kids, Josef and Charlene. My boy was much more comfortable running with the girl than her neat freak of a brother.
(Thank you EQ for the wonderful Gresham family!)
While young Apollon and Charlene roam the neighborhood, Dionysos and Marlene have a little romantic action in the Observatorium.
with consequences:
Another boy is born to the family:
Herakles
When Herakles grew up he gained the
Outgoing
trait and
Artistic Prodigy
aspiration.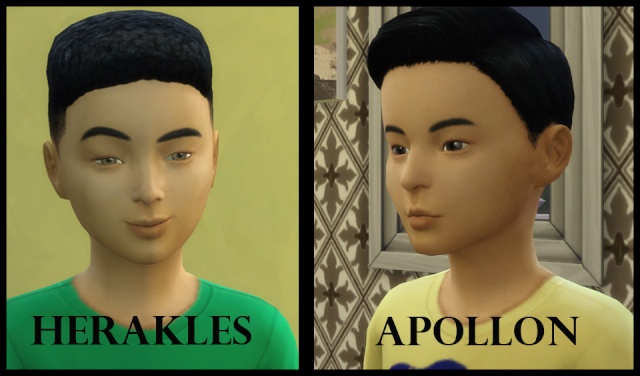 Apollon finished his childhood aspiration, is now Physically Gifted and with his teen birthday gained the Genius trait:
Apollon:
Public Enemy - Dastardly
Evil - Genius - Physically Gifted
Daddy and Son: they respect and love each other; although they will never understand the other's view on life.
And another pic of Apollon:
He's so cute! I have dozens of pictures, if I was a Sim girl I'd be lost to this bad boy!
Back on track: Dionysos reached elder and you can see the effect of his career (cuinary - chef) and abundant home cooking.
Wee! Apollon had his first kiss! Charlene now teen too is as smitten with his bad boy charms as I am.
And he's really nice with her; forgotten is his evil streak: Although there are quite a few people in Willow Creek who wouldn't believe Charlene, if she told them Apollon was a great guy.
Yeah, she has it bad for him. I'm not quite sure she knew what she got herself into when she followed him into the Observatorium late at night ...
... it was not the sky they explored, that's for sure!
(I didn't know that teens could 'mess around' - had to try when the option popped up.)
Any news from the rest of the family?
Well, Herakles had his teen birthday, after he fulfilled the child aspirations Artistic Prodigy and Rambunctious Scamp.
Persephone is now an elder too, like Dionysos: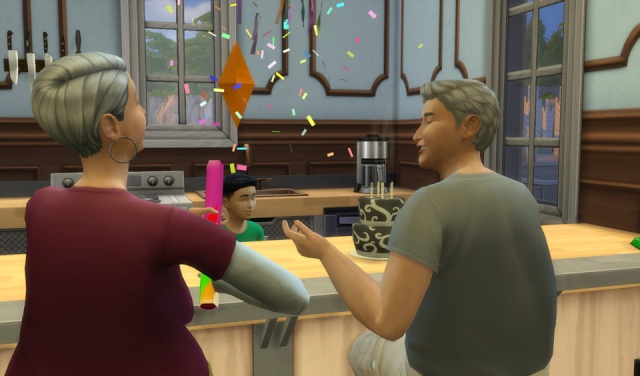 And Marlene swears, that Persephone has influenced her cow plant to hate her:
This is all for now. We will move on to Generation 7.
Warning:
Grim has a list to work through for my next installation.
Happy Simming!