Hello Everyone, AL (auntielynds) gave the great idea of making a thread for our RL pets. I'll post mine then if everyone wants too you can add yours as well!
My Cats
Kyra
~DSH Calico Age 5 years Female-Spayed
Kyra was found on my property as a wild kitten. I tamed her and she's been with me ever since.
Venture
~Purebred Siamese Scottish Fold Age 2 years Female-Spayed
Venture was given to me by a friend of the family after they could no longer keep her.
My Dogs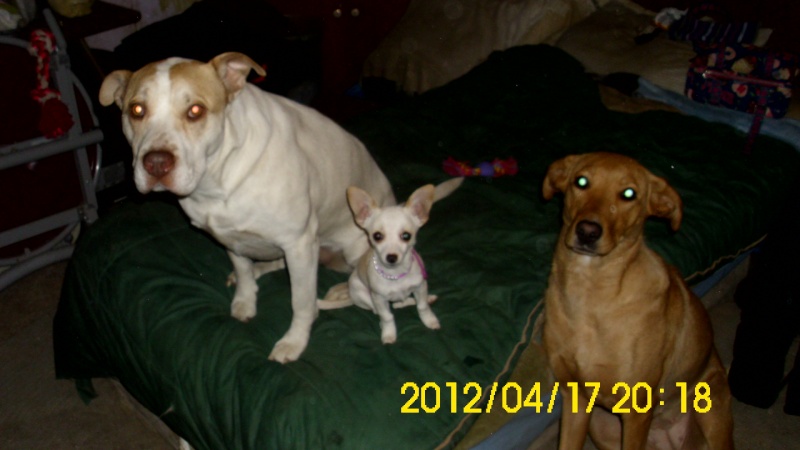 Belle
~Short haired Pittbull/Shar-Pei mix Age 8 years Female-Spayed
Belle was a rescue. Her siblings were abandoned and left to die a good samaritan found them. All were given good homes and I got Belle.
Serenity 'Pup'
~Medium hair Red-bone C.o.o.nhound/Golden Lab mix Age 5 years Female-unspayed
Serenity and her 5 siblings were thrown out of a car window at just 6 weeks old at our local biglots while the car was moving. The other 5 puppies were quickly rounded up but Serenity was the oddball and ran toward a busy road as soon as she hit the ground. I managed to catch her and she's been the best dog I've ever had.
Sophie
~Short haired Chihuahua/Chinese Crested mix Age 3 years Female-Spayed
Sophie was purchased off of Craigslist. She was unwanted and I fell in love with her adorable face.
My Other Pets
Luna
the Leopard Gecko 10 years old Female. Luna was bought at our local Petco when they first opened in 2005. She is a very unique pet and I'm very fond of her.
Petrie
the European Starling~3 year old Male. Petrie was given to me along with 12 other Starling hatchlings after a neighbor chopped down their tree (in the middle of the Spring=NESTING SEASON  
) I took care of them for about a week and a half before a wildlife rehabilitation official came and took them to their facility. I was allowed to keep one as a pet. I chose Petrie out of all of them. Below are his pictures from Hatchling to Adulthood.
Here are all 13 Starling babies!!  
Feeding Time:
Petrie is in the Upper LEFT Corner
Petrie at about 11-14 days old
Petrie at 18-21 days old now in his Juvenile Plumage and an accomplished flyer.
Petrie in his favorite pose: Sun Bird:)
Petrie in his full adult plumage 25+ Days old
My Silver Sebright Hen:
Wicket
. She is 14 years old and has been apart of my family for many many years. I bought her from our local feed store when she was just a day old.
Trevor
~Cockatiel-Female 13 years old. Trevor was a birthday present from my grandmother in 2001. (Razz She's a girl bird with a boys name. The pet shop told us she was a boy when we bought her. 1 year later we got 3 little white surprises on the bottom of her nest box...NOT a BOY bird.  
)
Well that covers my pets. I hope you all enjoy their pictures.