'Mine' Your Own Business Challenge (thanx for the name idea EQ)
Mining Corp Complex and Mining Corp Crew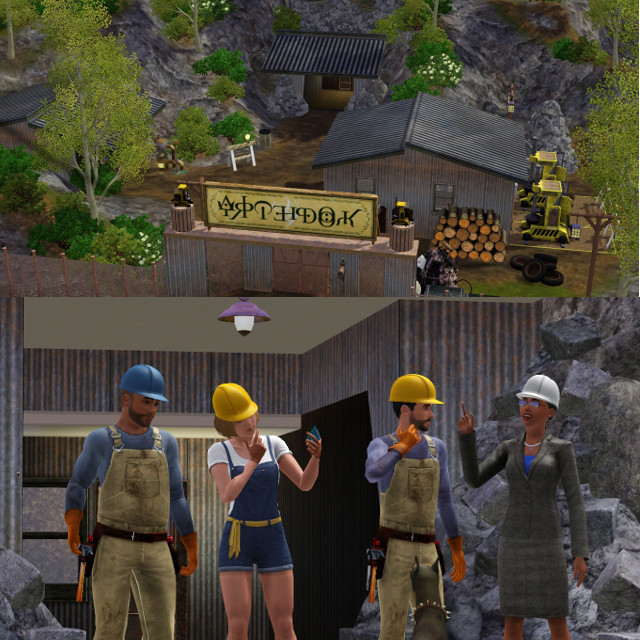 In this challenge your home lot is your households business and livelihood.
The crew run a mine with each one having specific jobs that entail specific
tasks. Below are links to the Mining Corp Crew and the Mining Corp Complex.
Exchange Link Mining Corp Crew :-
http://www.thesims3.com/assetDetail.html?assetId=6530359
Exchange Link Mining Corp Complex :-
http://www.thesims3.com/assetDetail.html?assetId=6524288
TS3CC Sims Page :-
http://ts3cc.canadian-forum.com/t812p15-lmfao-s-sims
(1/2 down page)
TS3CC Builds page :-
http://ts3cc.canadian-forum.com/t810p30-lmfao-builds
(3/4 down page)
If you choose to create your own mine use the follow criteria:- There must be an office on ground level near the lots main entrance, the office must be its own building. Only the office can have a computer but Sims can have laptops in their backpacks. The office can be decorated as you like. Buydebug can only be used to buy decorative objects, no objects that enhance or otherwise improve the performance of the Sims. (no skill building objects, or mood modifiers such as incense.) Buydebug cannot be used once play starts.
There must be a separate machine shop (its own building), either above or below ground. The machine shop must have a gem cutter (if SN-EP available), Inventing workbench, at least 1 storage container (cupboard or chest) and a small bathroom, 1 toilet 1 sink 1 shower.
The living area must have a shared recreation room, shared kitchen/dinning, shared bathroom and a shared bedroom (beds must be bunk beds if available). this can be decorated and set out however the player likes.
There must be an area for storing the miner machines, this area should be decorated in a construction site/junk yard type manner. Designated mining areas need to be flattened and decorated there should be at least 3.
The rest of the site can be built as the player wishes.
To create your own crew follow this criteria:- The crew can only start with 4 householders, each member must fill one of the starting roles (2 other members can be added from the neighborhood population later). You must start with one large breed dog and can choose only 1 other pet.
Crew Traits:- The crew must take these traits and Life time wishes (LTW) according to their designated job any left over traits can be chosen by the player.
Miner/Inventor
Traits:- Handy, Gatherer, Eccentric **** LTW:- The Tinkerer
Miner/Cook/Janitor
Traits:- Natural Cook, Neat, Gatherer **** LTW:- The Culinary Librarian
Miner/Dog Handler
Traits:- Gatherer, Dog person **** LTW:- player choice
Manager/Sales Rep
Traits:- Artistic, Born Salesman/woman, Charismatic **** LTW :- Professional Author
Guard Dog
Players choice
The Manager and Inventor must both register as self employed as soon as they can, Writer career and
Inventor career respectively.
Your crew should not have more then 4,000 after buying the lot and purchasing a vehicle at start of play (no vehicle over 20,000). This extra cash is used for paying bills until the mine begins to produce income.
The household can never have more then 6 workers at a time (start with 4 so 2 more can be added)
The household can never have more then 2 dogs (puppies are exempt but must be adopted out unless
being trained to replace an elder guard dog, it is up to you what you do with the elder dog).
If one of the Crew dies you can replace them with someone from the neighborhood same as adding another partner but they must take the role of the Sim that died. You can move them in how ever you like merge, mod or social interactions it would be like posting an add for a partner. Any goals completed by the dead Sim remain completed and don't need to be done by the new partner or you can resurrect the dead Sim as per standard EA mechanics/rules no cheats or console commands for resurrection.
No cheats allowed except when needed to fix game related issues or to view statistics.
The Genie Lamp, Inheritance and No Bills Life time reward cannot be used.
When upgrading the Lot items that are upgraded can be sold, items cannot be downgraded.
You can play in any world you choose.
Your Sims can take holidays and use items purchased from holiday destinations. They can complete opportunities from the Home Location of the Mining Corp to an abroad location ( eg. Take a book to China writer opportunity) but they cannot take on opportunities from an abroad location during the challenge.
If using Mining Corp Crew and Mining Corp Complex
After purchasing the Mine lot the money left must be used to buy a vehicle, Tofunda Wagon :- 19600. Dog objects (kennel, toys ect.) need to be bought for Axel when play starts, a shower needs to be added to the Machine shop toilet (where the inventing bench is). These where not added to the download sorry.
The crew are all housemates and relationships outside of work hours (or anything outside of work) is allowed.
Income can be earned from selling mined objects in consignment, Items that can't be consigned can be sold in the back pack or the buy menu. Income can also be made from business investments made and opportunities completed. Income can also be earned from selling items produced from skills like painting and skills preformed outside of work hours like hustling pool or playing guitar for tips. (ATM gifted items cannot be sold.)
*** IMPORTANT***
Your Sims will need to sell gems and ingredients at the elixir consignment store (Supernatural rabbit hole). Otherwise you will need to sell the gems and such through your inventory or buy mode. Inventions and such are still sold at the consignment store, If you don't have Supernatural you could try using NRaas consigner mod ***(http://nraas.wikispaces.com/Consigner)*** just be sure to read the page and double check your game version to the mod version.
Babies and Children
The question of babies and children has been raised so this is the "band aid" rule until things are tested more these rules may change. If the crew decide to have babies they still need to work as normal to the schedule but they can hire a baby sitter. After the initial birth both parents (and only the parents) can have 3 days off work as a maternity leave. As long as the crew continue with their work schedule having children is fine, if it becomes to much one of the parents and the child should be moved out to a different home lot, the parent that leaves will need to be replaced with a new employee. Other forms of removing a child can be used it is up to the player as long as the rules for the crew are not broken. When the child is old enough boarding school is another viable option.
The Work challenge begins at 9 am and lasts till 5pm Monday to Friday. During this
time the household can only do the work tasks set out for them or a task that is
directly related to running the mine (pay bills things like this). They can
complete opportunities during work hours but only ones directly related to their
Jobs, Cook can do cooking opportunities, miner can do athletic opportunities,
they cannot do drink at a bar, or dance the night away ect. Unrelated opportunities
must be done after work hours and before lights out.
Sunday to Thursday at 10:30 pm is lights out and the crew must
go to bed to be ready for work next day.
Work Time: Monday - Friday, 9am - 5pm
Work Task:
Miner :- Digging with Miner, exploring holes, filling holes,
cutting gems.
Mechanic Inventor :- Fixing broken objects (this task must be done over any
others), Inventing and building objects to sell, Upgrading
objects on site,Collecting scrap.
Manager Sales rep :- Writing novel (mining reports), Consigning mined objects,
investing in local real estate, befriending potential business partners.
Dog Handler :- Care, bonding and training of guard dogs,
Breeding and selling of puppies
Cook :- serve breakfast (must be done as soon as awake),
serve dinner,(serve lunch if there are no leftovers)
Janitor :- Clean house 9am. continued cleaning when needed
throughout work day.
Miners must complete their main task first before mining, Bill must have
no pending repairs, Ben must have cleaned everything, Cloe must tend Axel.
Then their schedule for the day is up to you as long as they do work
related tasks.
The mining crew Jobs are as follows :-
Bill:- Miner,Mechanic Inventor.
Ben:-Miner, Site Cook, Janitor.
Jane:- Site Manager, Writer, Sales Rep.
Cloe:- Miner, Dog Handler.
Axel:- Guard Dog, Companion.
Jane must register in the self employed writer career after gaining skill in writing.
Bill must register in the self employed inventor career after gaining skill in inventing.
Cloe and Ben remain unregistered.
An example of the Work day:-
6am. All wake up, Ben serves breakfast, Other shower toilet.
7am. Eat breakfast Ben showers and toilet after eating,
others do what they like till work start.
9am. Work starts each member checks if their main task
needs to be done, otherwise they work on other tasks
(break time) this can be anytime during the day and lasts 1 hour
Each worker only gets one break so use it wisely.
5pm. Knock off work time. Once the work day ends the crew are
free to do what they like (except Ben who has one more
cooking task then cleaning after dinner). You can choose to
have dinner when you like but lights out at 10:30 pm.
10:30 pm Lights out everyone heads to bed. (it's a good idea to
check their needs an hour before bed in case something needs seeing to).
Goals/Completion:-
1. When the company as a whole has accumulated 100,000 for each partner (4 partners = 400,000, 5 partners = 500,000 ect.)
2. When the company as a whole own outright a local community business per partner (4 partners 4 business, 5 partners 5 businesses ect. [not including the mine]). A rule legal business cannot be less then 50,000 Simoleons in total value, two or more smaller businesses that together total 50,000 Simoleons or more do count as one rules legal business together.
Example: suggested tailoring business to each crew member (example by EQ)
Ben /Cook - Diner & Bistro (24,000 + 37,500 = 61,500) or Market & Diner (27,000 + 24,000 = 51,000)
Bill / Maintenance/Inventor - Science Lab (140,000)
Cloe / Animal Trainer - Hospital (?) (105,000)
Jane / Site Manager - Business Center / Office Building (58,000)
3. Each partner must complete their LTW.
When all of these goals are completed the challenge is over and the player has succeeded. Enjoy your mined wealth, start again or move on
That's only so far and it's open to change
More may be added to this so check back often for updates
hope you enjoy
Originated by LMFAO
Thanx TS3CC "crew" for helping set this challenge up
Hope You Enjoy