I found this great tutorial @ Martine's Blog.
"Please read all information in this tutoral and be sure you are fully informed before attempting and installing mentioned programs."
Tutorial: Managing Custom Content
It is very nicely written and easy to understand.
I was mainly looking at the use of s3pe to compress my third party package files.
Be sure your package files are not corrupt before compressing! Check with
Dephy's Dashboard Tool
.
I followed along with the steps until I got to
Save As
(7th image under Start to merge package files)
This is where I got confused. Then I realized you need to click on the top file in the list...then click save.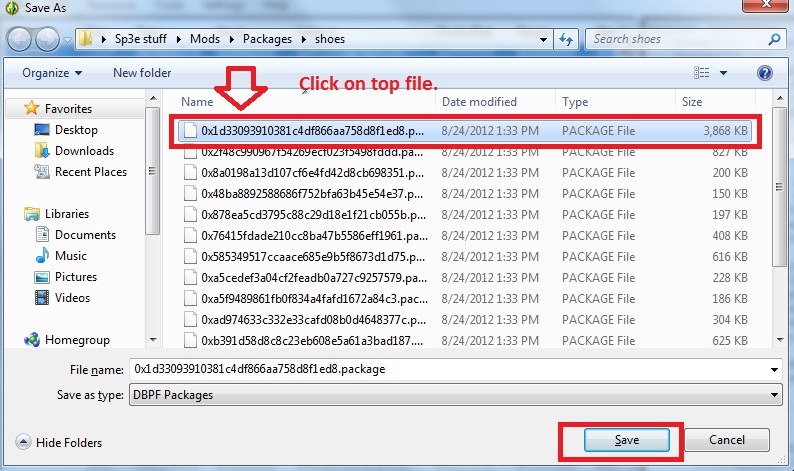 then it wants to know if you want to overwrite the file...this is when all the package files get squished together into one:,,,which is what you want.

After you will see that the file size of the first file is much much larger....that is because all your packages are now in this file.
I had set up a new folder on my desktop named it
s3pe Stuff
. I put a copy of my Mods folder and a Backup Copy of my Mods folder in it. This is where I have s3pe look at my package files....
since they were already in my game and I didn't want to mess around with the original Mods Folder
. Thus, I had to then go into My Docuements/Electronic Arts/The Sims 3/Mods/Packages/ appropriate folder that contained the package files I wanted to compress ( example:Shoes).
Delete
the files that were there and then
Replace
with the new compress file.
Now instead of having 55 hair package files in my packages folder I have 1
hair package file.
Be sure to check your package folder with Delphy's Dashboard before opening your game.
I didn't think it was taking my game long to load but now it is super quick. Boom...loaded.
I have also made a Compress Packages folder which contains copies of the compress package files I have made for a backup and placed it in my s3pe Stuff folder on my desktop.
This topic was written mainly to help me remember what the heck I did.....if you choose to follow any instructions be sure to fully understand and any mistake you make or damage done to your game is not my fault or anyone here at TS3 Creators' Consortium II.