Source Texture Organization
Do you know how frustrating it is to try and find just the right shade of green in your grass. You have to keep editing the texture until you just stumble upon the right texture. This is my solution to the problem.
Edit: I have found that you need to leave two default textures out of the files, and in the main directory of Source Textures. The default Grass, and the Default Sand.
These are the exact file names:
grass_medium_base.dds
00_sandDirt.dds
It seems caw looks for these textures when you start a new world depending on if you choose lush, or desert terrain. If caw can't find them, even if you link them back up with the same texture in your file folders, Your terrain turns a muddy brown when exported. The thought occurred to me, that you could substitute any .dds texture, and name it one of the defaults, and that would be your base texture in the World. I haven't tested this yet. I'll update when I do. If you test, post back with the results.
This is how I've organized my Source Textures
I have my main categories, and I've kept the ones I've downloaded from individuals separate. that way I can give credit if I use them in a world I upload. You can do it however you like.
Update Feb. 2011
LoCatus found a free program that displays the .dds files as images so you don't have to do the pictures. Look Here;
http://builders.forumotion.net/t1693-viewing-dds-files-in-explorer
Once I separated most of them, I opened up Paint.net and just dragged and dropped each one in. I then just "save as" jpeg. Now you will have a pic of each texture right beside the .dds file. You just have to remember not to click on the pic when choosing your texture or you'll just get solid black.
Note:
Make sure you change the "View" to Large Icons so you can see your pretty new pics.
I'm in the process of doing the same thing with the roads. I've separated each one, and now I'm doing the pics. This makes it much easier when creating a custom road.
This is the Asphalt road which is the default road texture.
Tip:
If your not sure what road you are going to use, and think you'll just start laying down the default, Stop! Create a custom road and use the asphalt road. This way if you are halfway through your project and decide you really don't like those default roads, you can change them. Caw will not let you edit the default road, so unless you want to delete all your roads and start over, you're stuck with it.
If you re organize all your Source textures in the middle of a project, you will need to re-link all the textures in your project. Otherwise Caw can't find them, and you'll get this ucky muddy brown color. That's Caw saying "I can't find it! It's not where it's supposed to be! So, I'm going to give you this."
To edit your paints; right click each one. When the pop up appears, check the exact name of the texture you used, then find it wherever you put it.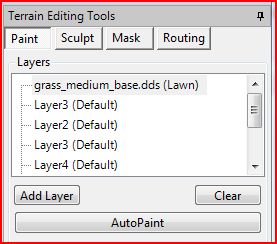 Tip: You may have to click on the Texture file name, and then use the right arrow button on your keyboard to move the text over so you can see the file name.
Now it should look like this.
I think that should do it. If you have any questions or comments about the process, you can post here. Better yet, if you have a different way of doing it, post here so everyone can learn from it. :D