General information about the world of StrangerVille:
There are three main areas of the world. StrangerVille Plaza, Shady Acres and the Secret Lab.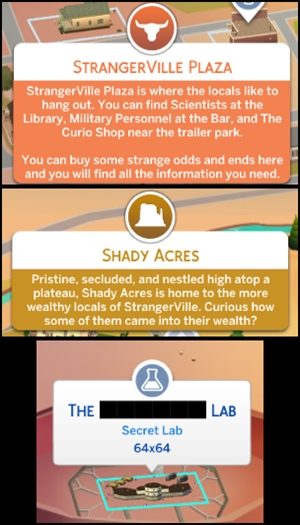 StrangerVille Plaza
"StrangerVille Plaza is where the locals like to hang out. You can find Scientists at the Library, Military Personnnel at the bar and The Curio Shop near the trailer park. You can buy some strange odds and ends here and you will find all the information you need."
Lots in this area:
B Bells Bar (Bar Venue) 20x20
StrangerVille Information Center (Library) 20x20
Riverside Grove (R-Occupied) 30x20
Old Penelope (R-Occupied) 50x40
Slip 42 (R-Unoccupied) 20x15
Carpophagous Corner (R-Unoccupied) 30x20
===
Shady Acres
"Pristine. secluded and nestled high atop a plateau, Shady Acres is home to the more wealthy locals of StrangerVille. Curious how some of them came into their wealth?"
Lots in this area:
Cliff Side Crest
(R-Empty)
30x20
Creek Corner Cove
(R-Empty)
30x20
StrangerVille Overlook (R-Occupied) 40x30
Dream Weavers Way (R-Occupied) 30x20
Plateau Place (R-Unoccupied) 40x30
====
Secret Lab
(Special) 64x64
A true mystery ready for you to solve.
R = Residential
Note: Slip 42 (R-Unoccupied) 20x15 is located in the trailer park area.
Sadly the trailers are just world objects and cannot be entered.
StrangerVille font used by the Gurus ŞŦŘΔŇǤ€ŘVƗŁŁ€
Cool Fancy Text Generator
Fancy Text 7