Computer disappears when excavating fossils or selling collectables
08March2017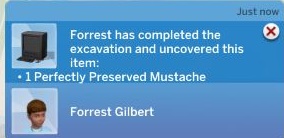 Scenario: When selecting action to Excavate Fossil and Sim is using computer the computer vanishes. This has also occurred when selling collectables while at the computer.
No CC / Zero Mods / Game had been repaired just prior to playing.
Notice in the image it verified the fossil had been excavated but shows the computer.
All content and patches to date.
Added to AnswersHQ Thread
.:*~*:._.:*~*:._.:*~*:._.:*~*:._.:*~*:._.:*~*:._.:*~*:._.:*~*:.
Households by EQCreations & Spaces by EQCreations
Rosebud Challenge & Rosebud 500K Solitaire Challenge & Rosebud In The City
ChallengeMashUp
Eco Existence Challenge
by @EuphorialQueen
The Sims Creators' Consortium