The Sims Medieval is a totally different way to play with Sim characters. I am not ready to lose my beloved Medieval Sims so I am posting them here.
Carl's Sims Medieval Video Game Strategy Guide Game Cheats, Walkthroughs, Tips, and Information to Help Players
http://www.carls-sims-medieval-guide.com/
The Lady Zelexxa rules Tempus Fugit with a Velvet Fist.
Do not let the regal gown of purple teal and gold fool you. Lady Zelexxa was born to rule.
Her traits are Adventurous, Solitary and fatal flaw Cruel.
Mirror Mirror in my castle ...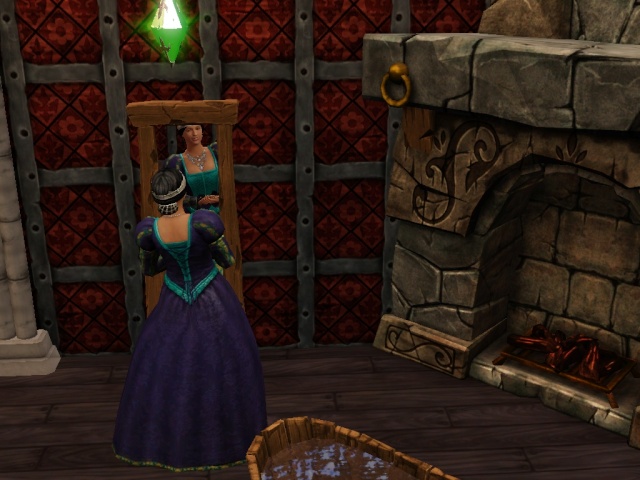 Mercy? Now why would I show mercy?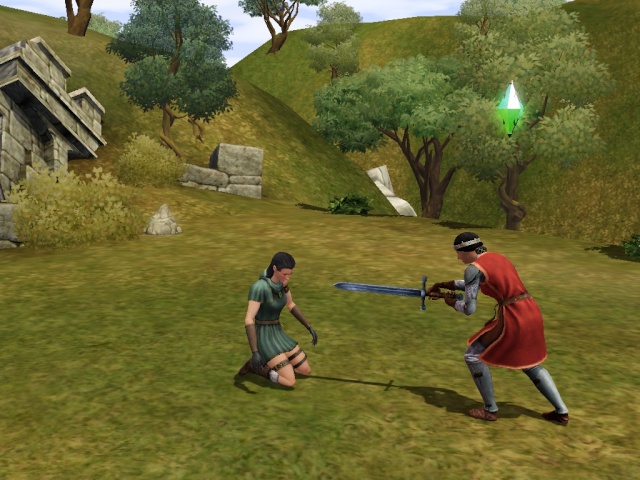 No no .. do not thank me. You will be spending time making new friends .. in the Stocks.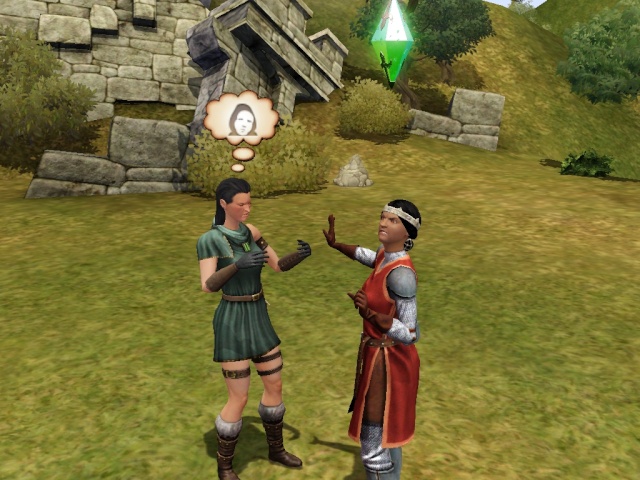 Adviser .. write of my great exploits and epic adventures and make sure to keep in the juicy parts.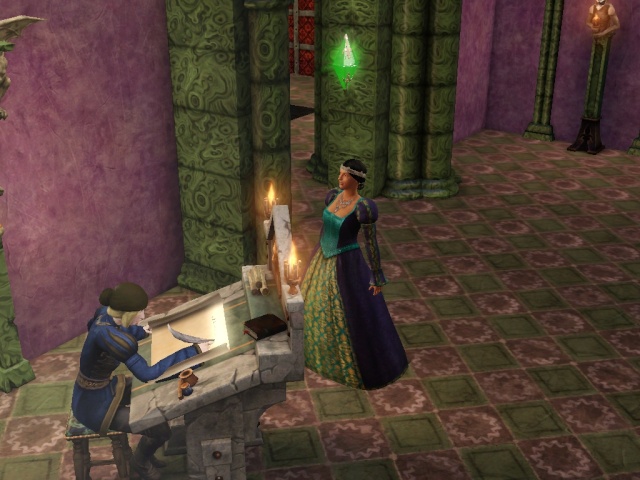 Lady Zelexxa needed a change of wardrobe as part of a quest.
Not much customization but the outfits suit the class of the Sim. I do like that the bottom of this one uses gradient coloring.
---
You must complete quests in a timely manner or this could hapen.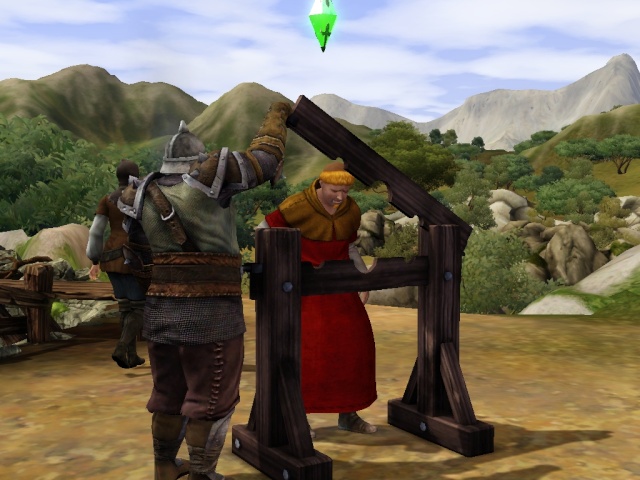 My physician / Bloodletter Doltry Manifest was doing his best to collect items needed for his craft. Could not get enough fast enough and the Queen had him put in the stocks.
Anybody remember in Sims 1 when the babies magically appeared in a crib? Well Medieval babies also magically appear. You can only interact by cuddling.
---
Then one day 'POOF' baby becomes a child and walks off. Children just seem to walk around and play in the wash basin. You can send them on errands to go to market. Then you have option to Check the child's inventory and retrieve the goods.
Just roasting a bit of Bear.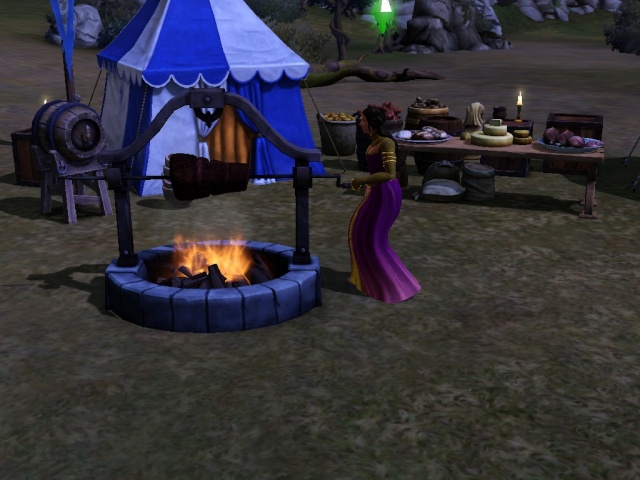 ---
Love this waterfall.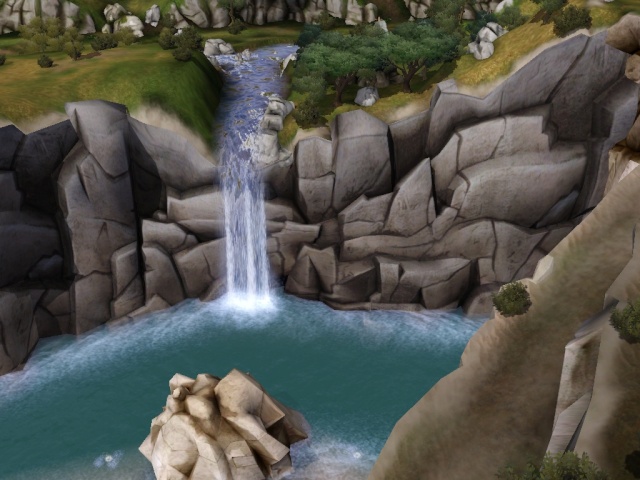 My Knight practicing on the training dummy.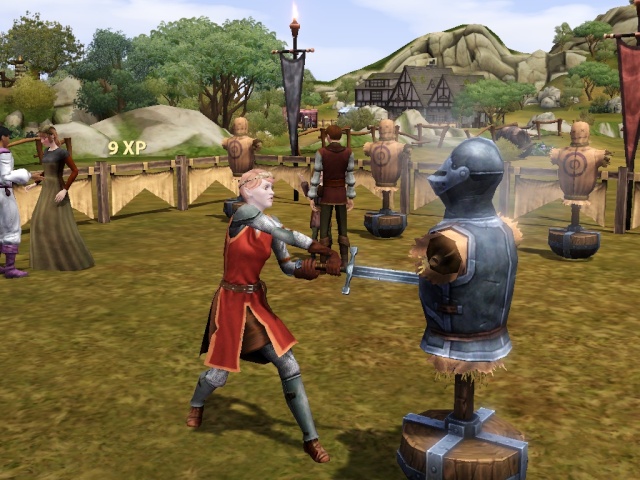 ---
She challenged someone to a duel and it was close but she won. Limping away and now bandaged this message appeared on the screen.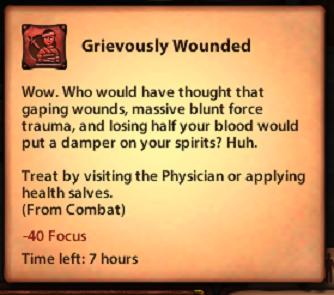 Hello Grimmy!
I love this outfit and thought it would be perfect for a Barbarian Queen for my next Ambition.
Alas it is not available for the monarch.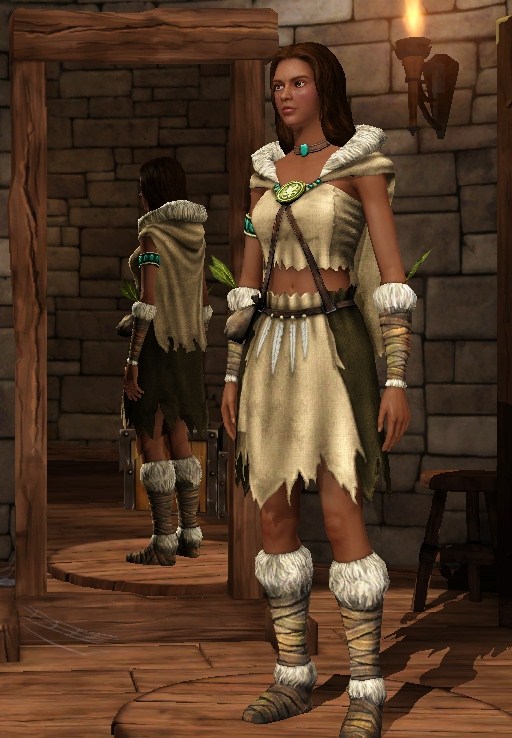 My Tempus Fugate Bard, Terrance is Level 10. Can you guess who he resembles?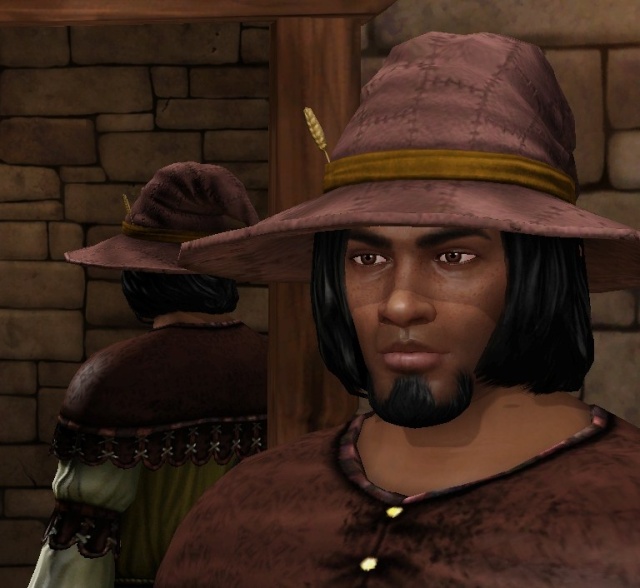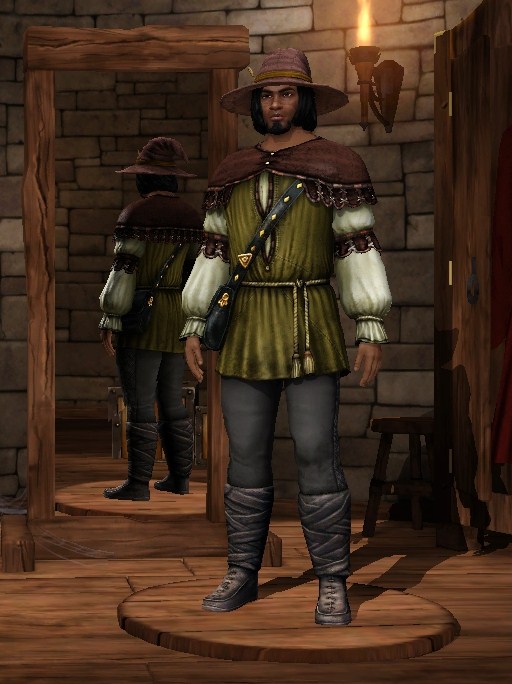 My Tempus Fugate Spy getting an earful.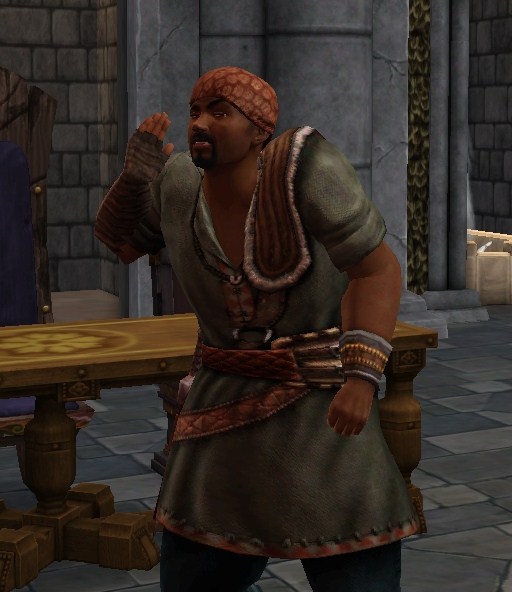 ---
I actually finished 'New Beginnings' with Tempus Fugate.
Deciding how I will proceed with my Barbarian kingdom of Blood Moon Rising. My monarch Lady Morgan of the Woods is an Orphan foundling adopted into the royal family to continue the bloodline. She has the fatal flaw of Bloodthirsty. I was so disappointed that I could not get the outfit I wanted I forgot to get her picture. She has recruited an Adviser and has a house maid. A Wizard has joined her in her quest for Power. But will the Jacobians take root in Blood Moon Rising and thwart her plans for domination? More to come.
---
Rhapsodist Terrance of Tempus Fugate sings the tales of his beloved kingdom.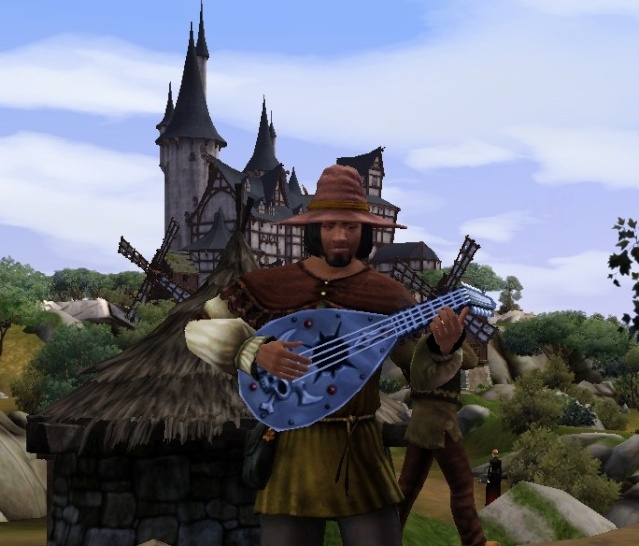 ---
The Kingdom of Blood Moon Rising
Queen Morgan discusses the state of the kingdom with her wizard.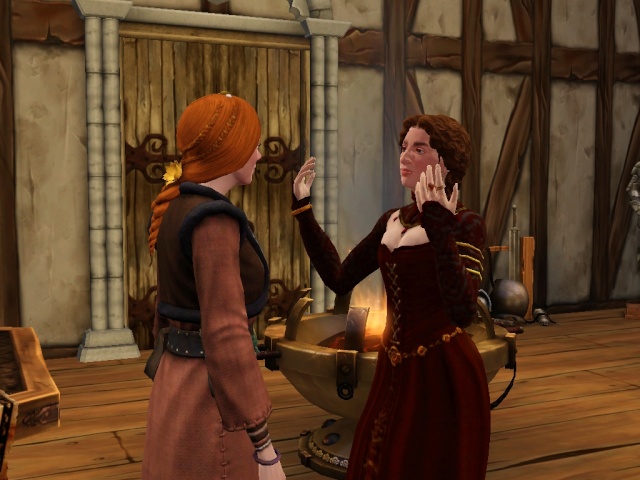 The Jacobian Missionary Priestess moves in to convert the masses.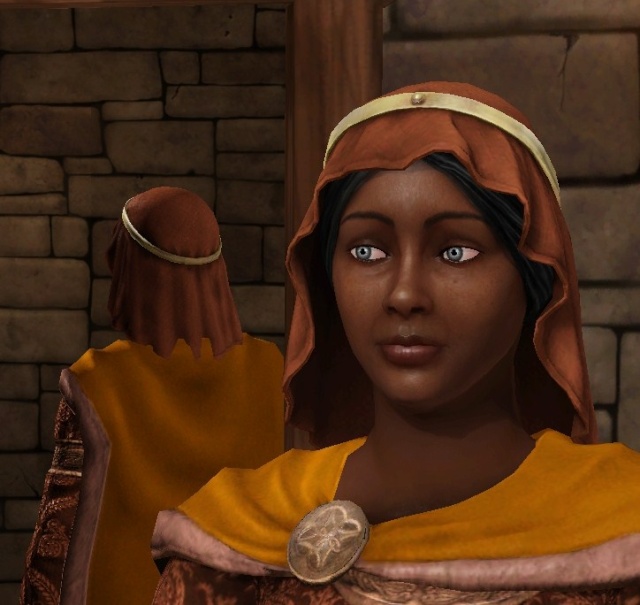 Will they heed her words?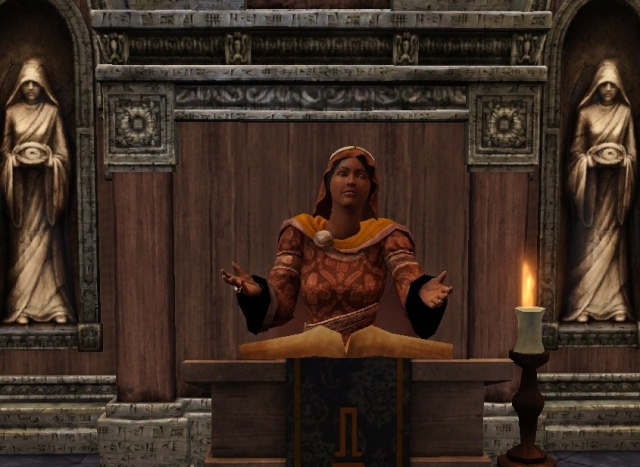 The bloodthirsty Queen Morgan recruits a Spy.
Will she serve her Queen as a loyal subject? Or will she be her undoing?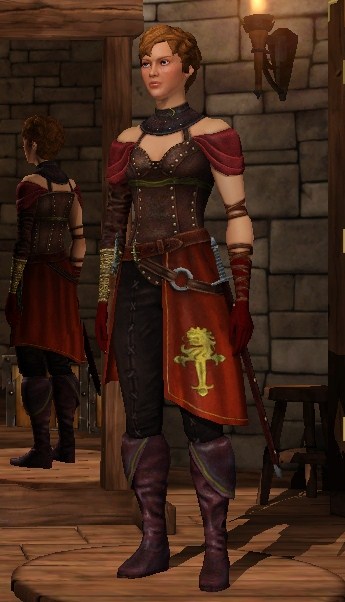 ---
Moving along to next Ambition ...
One of the Quests involves finding the Right Heir so my Monarch Edmond posted this proclamation:
Things in the village were a little dull so the town decided to create an attraction called 'The Beast'. Maybe they should not have used a real Beast?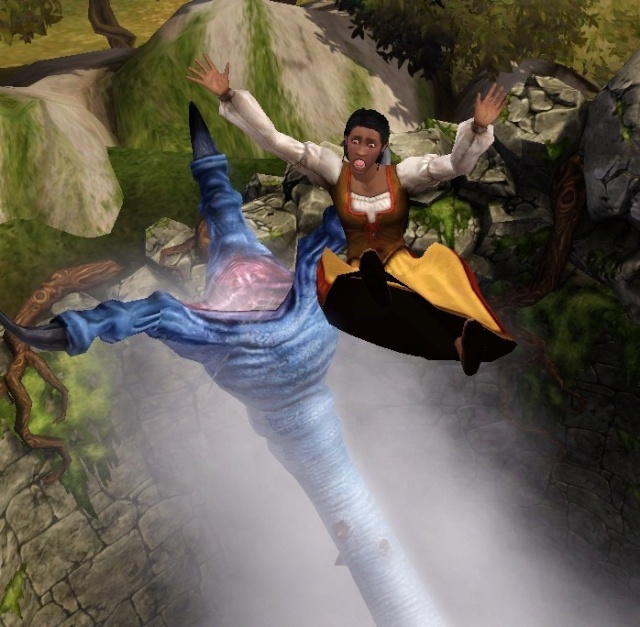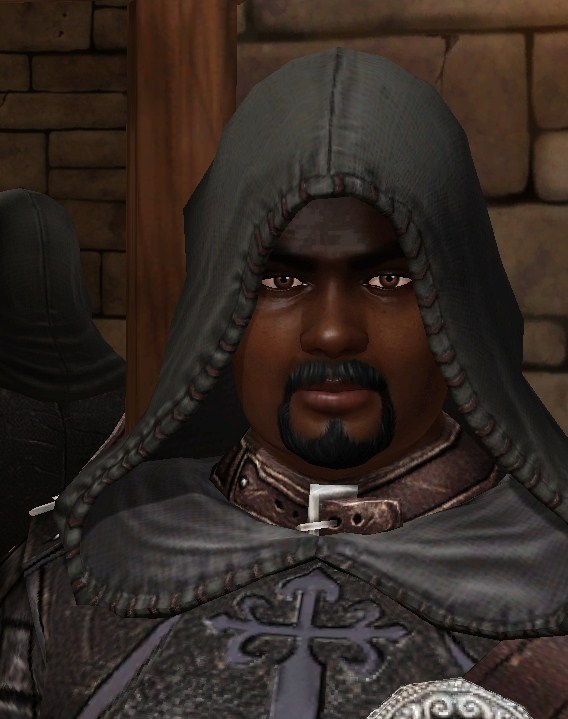 One of my favorites .. this is Teagan as his second turn at being a Spy.
I was able to save him as a Carry Over and now he is a Monarch in Teagan's Keep.
PS: I figured out how to have more than one Sim as a Carry Over. I will need to review my steps again then will post a note explaining how to save more than one character to use in a new Kingdom. The Carry Over file is created when you finish an ambition and you complete the New Beginnings (?) quest. Then that Sim is selectable as Monarch for a new kingdom.