This tutorial is still under construction!  Your feedback is welcome and appreciated!
| | |
| --- | --- |
| | Imagine - you just spent the day plundering the inter-web for the latest CC-goodies for your Sims.  You install it all into your game, eagerly go into CAS and discover that half of it doesn't have custom thumbnails.  You can't tell which is which or even who made it.  You see that some items do have thumbnails and wonder, "Is there a way to fix this"? Yes, there is. |
Getting Started
Who is this tutorial intended for:
This tutorial is suited to an advanced-beginner who can successfully install and use custom content, but doesn't necessarily make it themselves (though there are plenty of cc-makers who could benefit from it too!)  In order to accomplish the steps of this tutorial, you should be familiar with basic photo editing techniques.
What this tutorial will do:


Show you how to add a custom thumbnail to an existing piece of custom content.

What this tutorial will not do:


Teach you how to install and use custom content.

Teach you how to create custom content of any sort.

Teach you how to work with photo editing software.

Teach you how to use s3pe for any purpose other than the one described herein.

Teach you how to save the world from alien domination.

What you will need:


s3pe or any tool that can search, export and import from package files.  (I'm only familiar with s3spe, so this tutorial will focus on that.)

Photo editing software capable of saving files as file type .PNG.  The software you choose is up to you and can be as fancy of simple as you like.

Background
Adding a thumbnail to a piece of custom content is fairly easy and straight forward.  This tutorial is primarily focused on CAS parts, but the same general principle can be applied to buy/build objects as well.  The exercise below will walk you through the process step by step for eye shadow.
Please note that while the basic principle is the same regardless of the type of the item, there are some key differences.   For other types of items, please refer to the Quick Reference section.
Important Notes Before we begin:


This process is intended specifically for .package items.  If your item is a .sims3pack, you will have to convert it in order to accomplish this task.  You can do this using Delphy's Sims 3 Pack Multi-Extractor.  However, exact instructions on how to do this are outside the purview of this tutorial.

If you are one of those people who combine all of your cc into single files (and there is nothing wrong with that), you will be hating life if you attempt to follow these instructions as-is. It can be done, but my recommendation is to fix the image before you combine your cc into a single file if possible.

Part 1 – Walkthrough
WARNING: DO NOT ATTEMPT TO EDIT INSTALLED CUSTOM CONTENT FILES WHILE THE GAME IS RUNNING.  YOU MUST CLOSE THE GAME BEFORE YOU BEGIN.Step 1.
Select a piece of custom content in need of a thumbnail. Make a backup copy of this item and tuck it in a safe place (other than your mods folder).  For the purposes of this demonstration, I will be using
Ephemera's "Drama" eye shadow
.
Step 2. Create image(s) to use for your thumbnail(s).  The size of the image, as well as how many are required, varies depending on the type of item.  For the purpose of this exercise (eye shadow), you will need only one image and it must be 256 x 256 pixels. For other types of items, refer to the Quick Reference Guide.  Regardless of the type of item, the image must be a .PNG file.

What is in your image is completely up to you since you are doing this for your own benefit.  The image does not need to be overly fancy.  In fact, given the size, you will probably want to stay with something simple.  Typically you will want an image of the item itself with some sort of identifying tag. Be aware that the game puts its own little icon in the bottom right-hand corner to differentiate store and custom items, so you will want to steer clear of that area.

To the left is a sample that I use. It's quick and dirty but it shows the item in question and gives enough information for me to know what the item is.

Step 3.
Startup s3pe and open your .package file. (File-->Open).
Step 4.
Before you import your thumbnail, you need to get some information off of the item itself.  For CAS Parts, you need to locate the row with the tag, "CASP".  For skin, you will need to locate the "TONE" record.  For Buy/Build objects you need to locate either the "OBJD" or the "OBJK" record.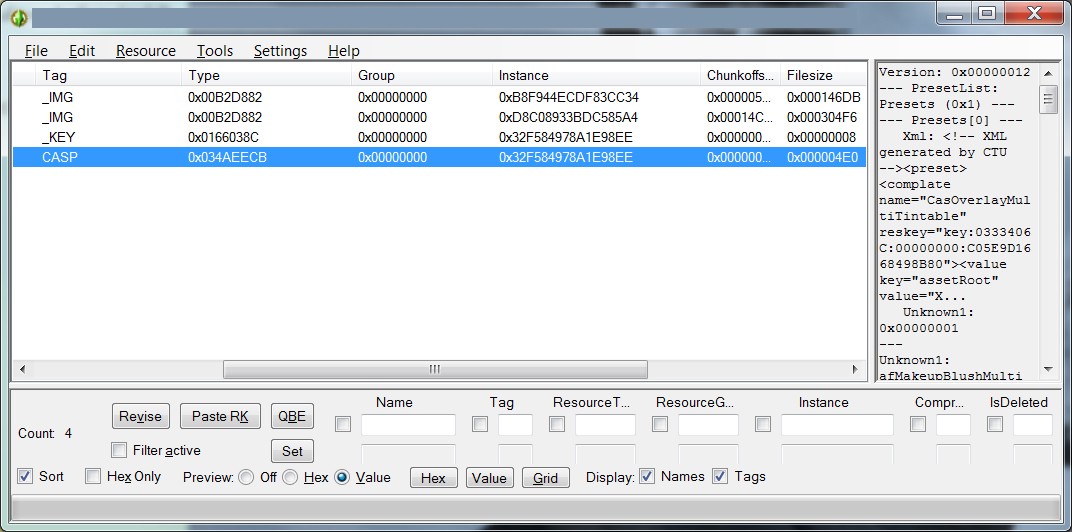 Once you locate the appropriate row, double-click on it to bring up the Resource Details window.  
DO NOT CHANGE ANYTHING ON THIS FORM.
 All you want to do is copy the "Instance" value.  Once you have done that, you can close this window.
Step 5.
From the menu, select "Resource"-->"Import"-->"From File" (or CTRL-SHIFT-M).  
[edit: 02/16/2014]
The Import Resources dialog will open.  At the bottom of this dialog, you will see an entry box labeled "File Name" and next to it will be a combobox (highlighted in yellow in the image below). Make sure that this combobox say "All Files (*.*)".  Navigate to where your thumbnail is located (make sure it is .png!), select it and click "Okay".  (Or double click your thumbnail).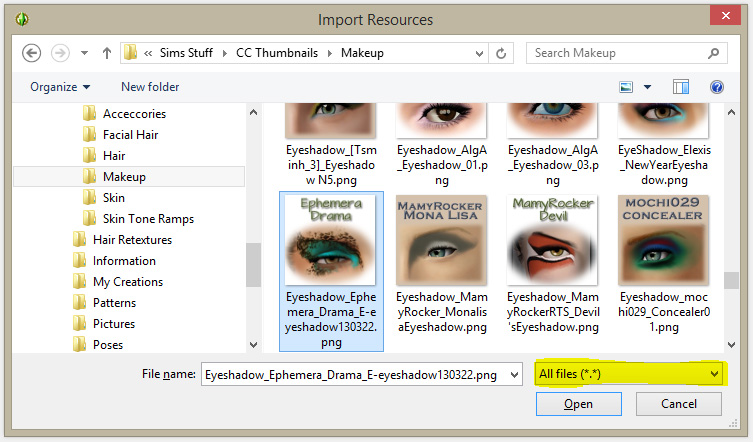 The Resource Details window will pop up again.  This time you
do
want to change the values.
For "Instance", paste in the value you copied in Step 4.  This value must match that of the object you are modifying (CASP or OBJK/OBJD).
The values you enter for "Type" and "Group" will vary depending on the object you are modifying as well as the size of the image.  For this example, we are modifying an eye shadow and the image is 256x256, so  select "THUM 0x626F60CE" for "Type" and leave "Group" at the default value (0x00000000). For other types of objects, refer to the Quick Reference Guide.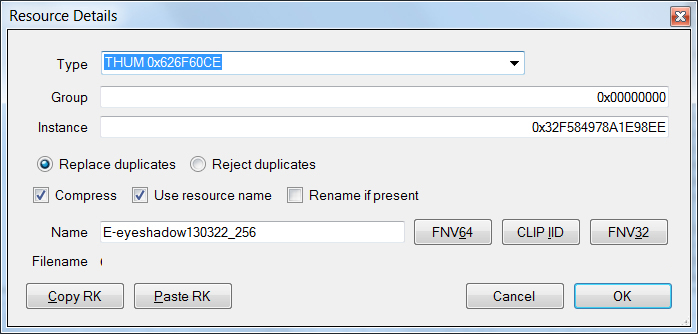 Leave all other settings alone and click okay.  Your image will now be attached to your item.  Click on the "THUM" resource, and you should see your image displayed to the right.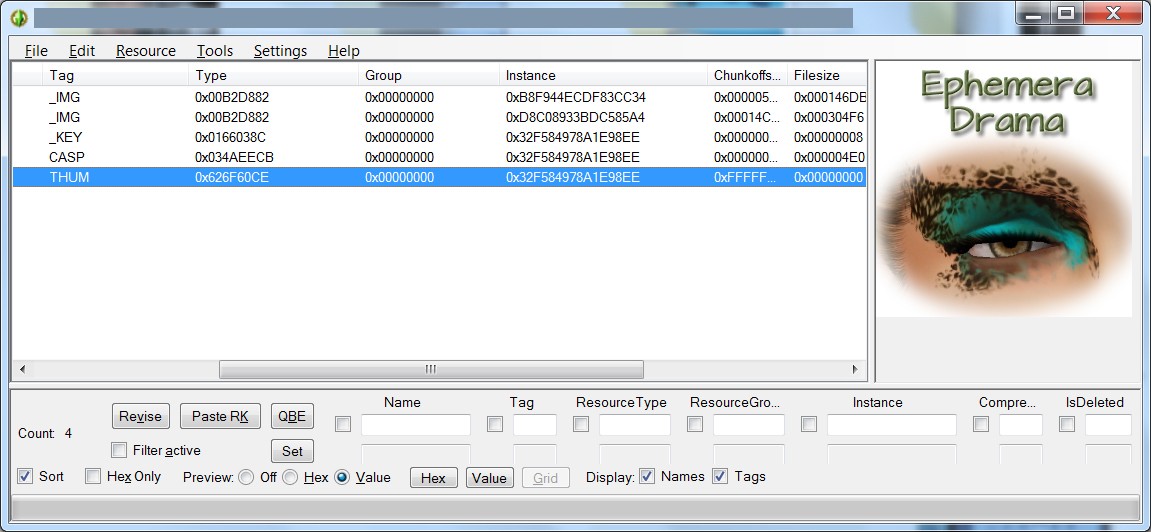 Step 6.
Save the newly modified .package file ("File"-->"Save").  You can close s3pe now if you like, or you may leave it open if you have more items you want to do.
Step 7. Fire up your game, go into CAS and check your results.  If your item still does not show your custom thumbnail:




Exit the game.  Locate the file, "CASThumbnails.package" (or "ObjectThumbnails.package" if it is a Buy/Build object you were working with).  It is in the "..\Electronic Arts\The Sims 3\Thumbnails" subdirectory.  Back it up if you like and then delete it.  Go back in your game. You will need to wait for a while as the game rebuilds the thumbnails.

Verify that you made all of the correct settings.  It is very important that you use the right "Type" value for the size of image and type of object. Make sure the instance is set right for your item.  Make sure that the "Instance" value on the image matches that of the object itself.




Part 2 – Replacing an Existing Thumbnail
Sometimes an item will already have a lovely custom thumbnail, but you will want to change it.  Maybe you can't quite make out the text because of the font they creator used, or it's hidden behind EA's custom content icon. Whatever your reason, you can replace them.  
Step 1:
Create the replacement image as you would if you were starting from scratch.
Step 2:
Open the package file with s3pe and locate the existing row marked with "THUM".  If there is more than one, make sure you are selecting the right one based on the type of object you are editing and the size of file. Select the row to highlight it.
Step 3:
From the menu, select "Resource"-->"Replace".  Select the new image file.  You do not need to change any settings (assuming they were correct).  Click "Okay".
Step 4:
Save.
Part 3 – Other Considerations
The object has a thumbnail, but it isn't showing in-game
Sometimes you will run across an item that doesn't seem to have a thumbnail in-game, but when you go to edit it you find that there is one there.  Chances are, they simply set the properties incorrectly.  Review the settings on the thumbnail and ensure they match those for an item of that type.  (Refer to the Quick Reference Guide).
What the heck item is this?!
If you are like me, you will probably want to take a picture of the item in game to use on your thumbnail.  The problem is you have a bunch of items that don't have thumbnails and have no idea which package to edit.  What I did was open each .package and determine if it had a thumbnail or not.  For those that did not, I created generic thumbnails that simply had identifying information (e.g. the creator name and which object it was).  When I went back in game I could determine which objects still didn't have thumbnails showing (e.g. the settings are wrong) as well as identify which item I was selecting so I could photograph it.  I then updated the placeholder thumbnail with one that had the image on it.
I like the default image but I want to put a watermark on it.
Yes you can do this too.  It can be tedious depending on the amount of stuff you have.  What you need to do is open the "CASThumbnails.package" (or "ObjectThumbnails.package" for objects) in s3pe.  You will see a whole bunch of "THUM" records.  If you select a row, you will see a nifty little preview on the right-hand side of the screen.  Click through each of them until you find the one you want.  From the menu, select "Resource"-->"Export"-->"To File". Save the file where ever is convenient for you.
Thumbnails and Custom Skin
I know this process
can
be done for skintones, as I have some that have watermarks on their color pickers.  However, I have not been able to successfully correct one that does not.  I will update this section once I have learned how to do this correctly.
Thumbnails and Costume Makeup
The process for adding a thumbnail to Costume Makeup is nearly the same as for Eyeshadow or other CAS Parts.  However, because of the way that the game displays the thumbnails in game, you will only see the middle part of the thumbnail.  I do not have an exact measurement of how much is shaved off the edges.  When I have better guidelines for that, I will update this tutorial.
Appendix A: Quick Reference Guide
Object Type
Img Size(s)
Type
Group
Instance
Eyebrows *
128 x 128
THUM 0x626F60CD
0x00000001
Same as CASP record.
Eye shadow, Eyeliner, Blush, Lipstick
256 x 256
THUM 0x626F60CE
0x00000000
Same as CASP record.
Costume Makeup **
TBD
TBD
TBD
Same as CASP record.
Hair
TBD
TBD
TBD
Same as CASP record.
Clothing/Shoes/Accessories
TBD
TBD
TBD
Same as CASP record.
Skin **
TBD
TBD
TBD
Same as TONE record.
Buy/Build Objects ***


---


(Yes, you need all 3)
32 x 32
THUM 0x0580A2B4
0x00000000
Same as OBJK/OBJD record.
64 x 64
THUM 0x0580A2B5
0x00000000
128 x 128
THUM 0x0580A2B6
0x00000000
* Yes, eyebrows have a group value of "0x00000001".  Why it is different, I have no clue.
** These items require special considerations when making their thumbnails.  Please refer to "Part 2 – Other Considerations".
*** I have included the Buy/Build section for ease of reference, but I have not tested these for accuracy.
Appendix B: References
Creating Custom Thumbnails
by HugeLunatic : This tutorial was written specifically for Buy/Build objects and does not cover CAS Parts.
"Custom thumbnails for eyebrows?"
, a thread at ModTheSims :  I gleaned more information about the size and type settings for CAS Parts here.
[url=http://tamosim.blogspot.com/2011/02/how-to-add-thumbnail-to-custom-makeup.html]"How to Add a Thumbnail to Custom Makeup" by Tamo : This tutorial was written in the context of making CC with TSRWorkshop (which I don't do).  However, it had good information on the format for Costume Makeup.
Appendix C: Edit Log
| | |
| --- | --- |
| Date | Change |
| 02/16/2014 | Added missing photo and instructions to Part 1, Step #5. |